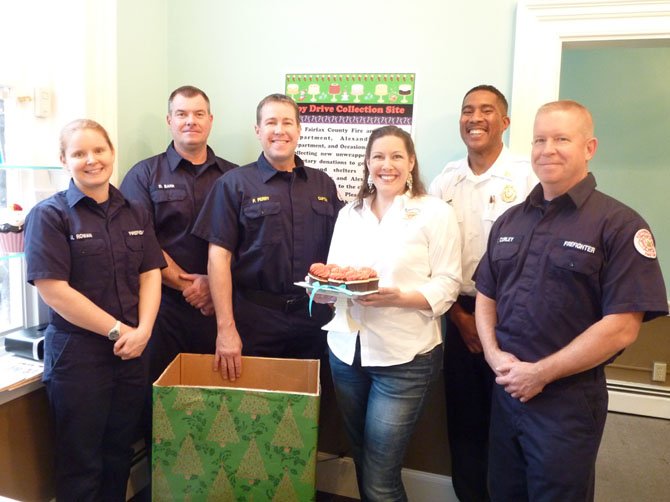 Alexandria — When Sabrina Campbell volunteered to help put together a tribute to local police and firefighters, she had no idea the event would lead to a chance meeting with Capt. Willie Bailey, founder of the Firefighters and Friends Holiday Toy Drive.
"Capt. Bailey told me about the needs in the community so I asked how I could help," said Campbell, owner of Occasionally Cakes, a specialty bakery and cupcake shop with locations in Mount Vernon and Old Town. "As a local business, we want to make a difference and help organizations close to us so we decided to support our local firefighters and their holiday toy drive."
Both Occasionally Cake locations will be collecting toys and cash donations for Firefighters and Friends through Dec. 14.
"For each toy that someone donates, we'll give them a free gingerbread man cookie," Campbell said. "We want to collect a lot of toys. We want to make sure Capt. Bailey gets to his goal."
The Firefighters and Friends toy drive was founded in 1995 by Bailey as a way to help 50 struggling families in the Gum Springs community along the Route 1 corridor. This year, the annual drive hopes to serve more than 4,000 children in need throughout Northern Virginia through schools and organizations such as Community Lodgings and Carpenter's Shelter.
"When we're not running 911 calls, we're trying to find ways to make a difference in the community," Bailey said. "We are hoping folks will help out by donating new, unwrapped toys for elementary, middle and high school kids or cash to allow us to buy gift cards for the older students."
For Campbell, the partnership between Occasionally Cakes and Firefighters and Friends is a good fit.
"As a mother, anything to do with children is important to me," said Campbell, who plans to take her 7-year-old daughter Jasmine to the toy distribution set for Dec. 18. "I want my daughter to see what Capt. Bailey is doing for children like her in the community. She needs to be grateful for what she has and see that while cupcakes are fun, giving back can change lives."
For more information, call Bailey at 703-909-0523 or visit www.ffandfriends2therescue.org.