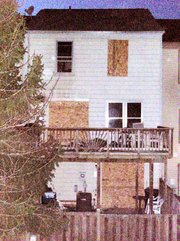 Centreville — A townhouse fire Sunday afternoon in Centreville's Newgate community caused an estimated $100,000 damage, according to fire officials. They say an unattended candle in the kitchen caused the blaze.
Fairfax County Fire and Rescue units responded to the single-family home at 5650 Chapel Run Court on Dec. 2, around 2 p.m. Numerous engines and ambulances, plus 35 personnel, came from both Centreville fire stations 38 and 17, as well as from Fair Oaks Station 21 and Station 40 in Fairfax.
First-arriving firefighters encountered smoke and fire coming from the front of the attached, two-story, middle-townhouse unit. But they were able to quickly extinguish the flames.
The occupants — a husband, wife, teenager and a dog — were displaced by the fire, but the American Red Cross is assisting them. No one was injured.
Walter Reyes lives two doors down from the home and, that afternoon, he and his wife were outside, just about to take their two youngest sons, ages 5 and 7, to get a haircut. But then something caught their eye.
"When we were getting into the car, we saw a ton of black smoke coming out of the neighbor's open front door," said Reyes. "It looked like it was coming from the back of the house. And the lady was outside screaming."
"I asked if they were OK and they said yes," said Reyes. "I also asked if they needed any help, and they said they'd already called the fire department. Then I heard the [fire-engine] sirens coming, so I went to the corner and directed them here."
Next, he moved his car from its parking space in front of his home and told the man whose house was on fire that he should move both his cars, too, so the emergency vehicles could park there. And there were lots of them.
"My kids counted 14 vehicles," said Reyes. "They were excited to see the fire engines hook up to the fire hydrant; they didn't know there was water in there."
Since all the townhouses there are attached, he was concerned that the fire might spread to his and other homes on the street. So he told his older children, a son, 14, and a daughter, 9, to get out of their house. "We don't have gas," he said. "But I didn't know if the other houses had gas and something might explode."
After that, Reyes and his family stayed outside for awhile and watched all the drama, along with several other neighbors doing the same. Since his older children were staying home, he didn't want to leave before making sure the fire was out and they'd be safe.
"The firefighters broke a couple windows in the back of the house, plus the sliding glass door, to let out the smoke," he said Monday evening. "It was incredible, the amount of smoke that came from that house. We can still smell it, but it's not as bad as last night."
Meanwhile, the fire department offers the following candle-safety tips for residents:
Don't place candles near combustible materials; keep candles in glass or ceramic containers on flat, study surfaces; never leave children unattended in a room with an open-flame candle and don't place candles on window ledges or near entryways. The potential air draft can fan the flame, catching curtains or other materials on fire.
In addition, keep burning candles within sight at all times. Candles may also present fire hazards outdoors on decks and patios. Always extinguish candles before leaving home, and place all candles on a protected, heat-resistant, dry surface away from anything that can catch fire, and out of the reach of children and pets.