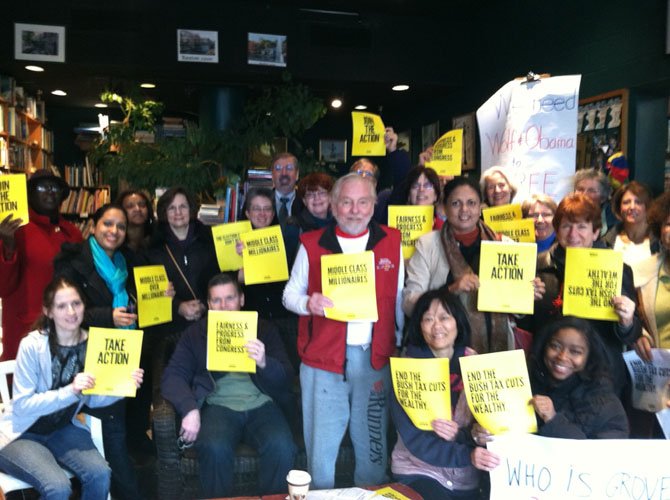 Dozens of Virginians gathered on Saturday to rally for an end to the Bush tax cuts for the top 2 percent. The activists gathered at Reston Used Bookstore to hear from community members on the issue before going door-to-door to urge neighbors to contact Congressman Wolf. Those gathered expressed concern that middle class taxes could go up over $2,000 a year if leaders in D.C. don't compromise and put the middle class before millionaires.
 Morgan Jameson, a student, told the assembled crowd why protecting the middle class and eliminating the Bush tax cuts for the wealthy is important to him.
"My generation, people working around the clock, can't afford to see tax cuts expire for the middle class. The average middle class family sees a tax cut of approximately $2,200 a year. If those tax cuts went away, I, and many other people, could not afford the gas it takes to get to and from work. I think it's important that we ask those at the top to pay a little bit more."

Mariama Balde works for the Fairfax County School System. She said, "I have people coming to me about the fiscal cliff. I saw a man, a nurse, who has to work two jobs. His son is handicapped and in a wheelchair, and he is looking for a mini van so his son can get around. He came to me, in tears, about the fiscal cliff. He said "how am I going to do this—if they take away the $2,000—how will I get this for my son?" The concern is so obvious to everyday people. That money is big for us."
Balde also wrote in an email to the Connection, "After re-electing President Obama, I called my volunteers friends to thank them and they all asked, 'What next, Mariama?' and my answer was let's keep it going. So when I heard that there was a rally supporting President Obama's budget plan and against the Bush tax cuts for the rich 2 percent, I immediately called my friends again and we went to Reston.
"We were at this great woman-owned small business enterprise, a used bookstore. The room was packed, the people were all fired up and ready to go again and eager to hear what the next step is because we do not want to rest after working so hard . . . I spoke from my heart, as I understand it at my level not as a politician or an economist but as a hard working person like all the people that I know."

After rallying at Reston Used Bookstore, Virginians went door-to-door in Congressman Wolf's neighborhood, gathering support for extending middle class tax cuts and asking the wealthy to pay their far share. To learn more about the campaign to end the Bush tax cuts for the wealthy, visit www.TheAction.org.