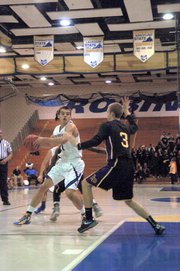 Fairfax — After a loss to Woodson on Nov. 30, Robinson boys' basketball Coach Brian Nelson said the Rams played the kind of defense of which they're capable for just one quarter. The result: a 17-point loss.
Facing rival Lake Braddock on Dec. 7, Robinson put forth its most complete defensive effort to date. The result: Rams fans rushing the court in postgame celebration and hoisting point guard Nate Hackett in the air.
Robinson limited Lake Braddock to a season-low point total and the Rams won, 55-41, on Friday at Robinson Secondary School. A pair of free throws by Will Grooms gave the Rams their largest lead of the night at 47-29 with 5:38 remaining in the fourth quarter. The Bruins responded with a 10-0 run to pull within eight, but Robinson scored eight of the game's final 10 points to secure the win.
"Our defense won us that game. There's no question about it," Nelson said. "We didn't shoot the ball particularly well, we didn't rebound well at all, but we never quit on the defensive end. We did what we have to do to be successful, and that's being consistent at the defensive end.
" . . . We got as close as we've been so far to 32 minutes of defensive intensity. We had a few lapses here and there, but that was our best defensive effort of the season across an entire game."
After a 17-point loss to Woodson and a 16-point loss to Wakefield, Robinson responded with victories against South County and Lake Braddock. The Rams held the Bruins to 18 points in the first half and led by nine at halftime.
"I think it's just our mindset going into the game," Robinson senior guard Keegan Ruddy said. "We had a tougher mindset."
At the offensive end, Ruddy led Robinson with 16 points. Hackett scored 12 points, Nick Bynum finished with seven points and Grooms had six.
"The thing I tell our kids is that we can't care about who scores, we only care about we score," Nelson said. "As long as we continue to buy into that, I think we're a little tough to cover because we don't have the one or two guys that you can key in on. We've got a bunch of guys that can get eight to 12 on any given night and that's not easy to defend."
Robinson led, 37-27, early in the fourth quarter when the Rams embarked on a 10-2 run. At one point, Ruddy scored seven straight for Robinson.
"We're playing more like a team," Bynum said, "than we were [during] those two losses."
Lake Braddock junior forward Will Gregorits finished with 17 points and 18 rebounds for the Bruins.
"Robinson looked ready to play," Gregorits said. " . . . In the first half, we looked nervous out there."
Robinson defeated West Springfield, 50-38, on Tuesday to improve to 4-2. The Rams will host Fairfax at 7:30 p.m. on Friday, Dec. 14.
Lake Braddock lost to Herndon, 57-55, on Tuesday, dropping the Bruins' record to 2-2. Lake Braddock will travel to face West Springfield at 7:30 p.m. on Friday, Dec. 14.