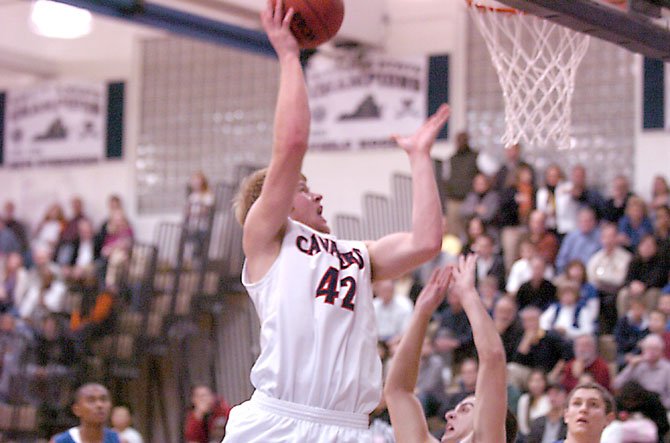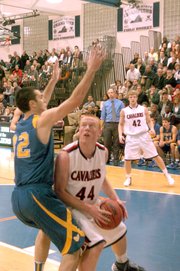 Fairfax — Tommy Stepka (6-foot-6), Peter Murray (6-foot-4) and Andy Stynchula (6-foot-4) each possess the size to patrol the paint for the Woodson boys' basketball team. But while each has the ability to make an impact inside, the Cavalier trio also proved potent from the perimeter during the first half of Friday's season opener.
Stepka, Murray and Stynchula combined to hit five first-half three-pointers as Woodson built a double-digit halftime lead against Robinson. The Cavaliers survived a third-quarter surge by the Rams and then cruised to a 68-51 victory on Nov. 30 during the first night of the Red Jenkins Tipoff Classic at Woodson High School.
"We're kind of weird; all our big guys kind of shoot the ball and our little guys drive the ball to the basket [and] score the ball near the basket," Woodson Head Coach Doug Craig said. "Andy, Peter and Tommy can obviously all shoot the ball from the perimeter. It kind of gives us a dimension that we can do some things that are a little unorthodox and we're able to get some shots up that way."
Stepka, Woodson's leading scorer last season, knocked down a pair of three-pointers en route to a game-high 19 points. His second from long distance gave the Cavaliers a 29-16 advantage with 4:53 remaining in the first half.
"I feel like once one person knocks down a three, it gets everyone else going," Stepka said, "and then they have their confidence and they knock down threes. The next thing you know everyone's knocking threes and it's hard to stop."
Murray also made two three-pointers. His first gave the Cavaliers an early 7-0 lead and his second gave Woodson a 23-12 advantage near the end of the opening quarter. Murray, who finished with 16 points and 13 rebounds, credited sophomore point guard Eric Bowles for creating open looks for others.
"We're kind of weird; all our big guys kind of shoot the ball and our little guys drive the ball to the basket [and] score the ball near the basket."

—Woodson boys' basketball Coach Doug Craig
"The good thing about Eric is Eric's able to create space for everybody else," Murray said. "He draws a ton of attention as a great point guard and then that allows me, Tommy and [senior guard] Damian [Bell] and other people to get these wide-open shots and knock them down."
Stynchula (five points) and Bell (three points) each made one 3-pointer in the first half.
Bowles scored eight points, grabbed eight rebounds and dished out six assists.
Stynchula's three-pointer gave Woodson an 18-point second-quarter lead, its largest of the first half. The Cavaliers entered halftime with a 39-23 advantage, but Robinson made things interesting in the third quarter.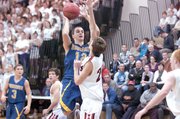 The Rams opened the second half on a 12-4 run, cutting the Woodson lead to single digits when a bucket by senior guard Nate Hackett made the score 43-35 midway through the period. A three-point play by senior guard Keegan Ruddy in the final minute of the third quarter and another Ruddy bucket in early in the fourth pulled Robinson within four at 51-47. But the Rams would get no closer as Woodson outscored Robinson, 17-4, for the remainder of the contest.
The Rams outscored the Cavaliers, 22-12, in the third quarter, but were outscored, 56-29, during the other 24 minutes.
"We played an outstanding third quarter. We played a terrible first half," Robinson Head Coach Brian Nelson said. "To Woodson's credit, they made a ton of shots, but we made things awfully easy on them by giving them a lot of open shots.
"We didn't defend in the first half anywhere close to the way that we need to defend and the way that I know we're capable of defending. We showed in the third quarter how capable we are as a defensive team and how we can turn our defense into offense. We didn't do that at all in the first half."
Hackett led Robinson with 12 points. Ruddy finished with 11 points and junior guard Jared Steen added eight. Junior guard Matt Fall and senior forward Will Grooms each scored six points.
Senior forward Nick Bynum got in foul trouble and finished with two points, but figures to be a major contributor during the season.
Woodson defeated Fairfax, 55-46, on Dec. 1 and Wakefield, 65-52, on Dec. 5. The Cavaliers lost to Bishop O'Connell, 74-55, on Dec. 4. Woodson (3-1) will host Langley at 7:30 p.m. on Friday, Dec. 7.
Robinson defeated Annandale, 67-53, during its season opener on Nov. 27. The Rams lost to Wakefield, 57-41, on Dec. 1 and defeated South County, 57-50, on Dec. 4. Robinson (2-2) will host Lake Braddock at 7:30 p.m. on Friday, Dec. 7.