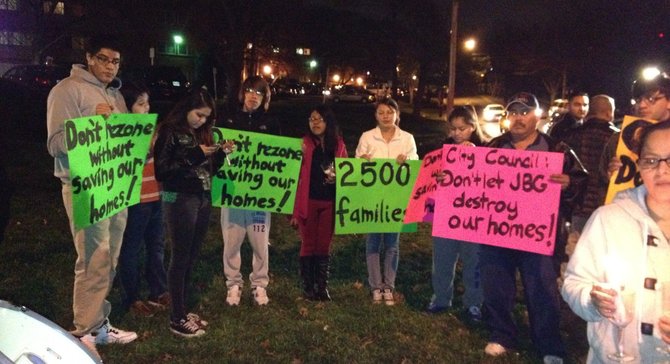 As residents of the West End gathered this week to celebrate Human Rights Day, a spirit of defiance was in the air. Even though members of the Alexandria City Council have already approved the controversial Beauregard small-area plan, residents here are hoping that elected officials will hold off on rezoning the land until safeguards can be put into place to ensure low-income residents aren't displaced by redevelopment.
"We're frustrated and angry about what's going on," said Hector Pineda, president of the Beauregard Tenants Association. "And we're still in this fight."
Residents are calling on city leaders and JBG Companies to roll back rents to 2010 rates and freeze them in place, which would prevent low-income residents from being priced out of Alexandria. They're also asking that city leaders increase the number of dedicated affordable housing units from 800 to 2,473 — the number of existing market rate units that will be demolished under the current plan. The day after the protest, JBG flatly rejected those requests.
"That is completely impractical if we are to continue to maintain this property to satisfy resident needs and meet city of Alexandria standards," said Charles Maier, spokesman for the JBG Companies. "Most residents living in Mark Center know and understand that."
THE DEBATE ABOUT what should happen on the West End was at the center of the recent City Council election, and the issue was raised at every candidates forum. The vote on the small-area plan happened during the heat of the Democratic primary, and one candidates forum at Cora Kelly Elementary School featured a heated exchange between audience members who were opposed to the plan and candidates who supported it. A political action committee known as Democrats for a Better Alexandria selected candidates who were willing to speak out against the plan.
"In many ways, this is an even worse plan than the waterfront plan," the group said in a written statement announcing its slate of endorsements. "We believe that any candidate who says he or she supports diversity and affordable housing and does not speak out against the Beauregard plan is not credible."
With one exception, Allison Silberberg, all the candidates that opposed the plan lost the election — providing supporters with a mandate for action when zoning is on the agenda this spring. Supporters say it creates a historic number of dedicated affordable-housing units — more than have every been created for any single plan in the history of Alexandria But opponents say that's not enough. They would like to see a one-for-one ratio of replacement, ensuring that the janitors, cooks and taxi drivers who live in the low-income garden apartments won't have to leave Alexandria.
"They're making money hand over fist," said Wesley Aten, interim executive director of Tenants and Workers United. "They can afford to add these affordable housing units."
LIKE THE STREET that bears his name, Confederate Gen. Pierre Gustave Toutant Beauregard was difficult to manage. The hotheaded rebel had a hard time getting along with superiors, and now the small-area plan named in his honor has created its own Civil War in Alexandria. The 30-year plan covers a sweeping 400 acres west of Shirley Memorial Highway, including almost 200 acres of land slated for redevelopment. The vision of the plan is to create "a series of new urban neighborhoods" with housing that is connected by transit.
"This is one of the most significant transit-oriented smart growth plans the city has ever done," said then-Councilman Rob Krupicka shortly before casting a vote in favor of the proposal.
If the zoning is approved, the plan will more than double the density of what's there now — increasing the area from a low-slung 6 million square feet of existing development to 12.4 million square feet of new development. Upzoning the properties will significantly increase the value of the land, benefiting the land owners and developers. In exchange, city officials are getting $154 million to build a new fire station, pay for transit infrastructure and create dedicated affordable housing units.
"The planned redevelopment is long term, taking place gradually over the next 30 years," said Maier. "As always, we will treat each individual fairly and honesty, and we will operate with complete transparency and city oversight."