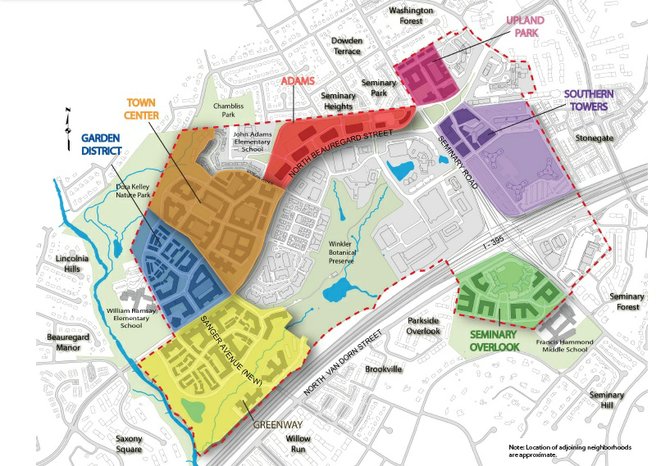 Candidates Who Support Beauregard Plan
Melissa Feld
Donna Fossum
Sean Holihan
Tim Lovain
Del Pepper
Paul Smedberg
Justin Wilson
Candidates Who Oppose Beauregard Plan
John Taylor Chapman
Michael Hepburn
Victoria Menjivar
Sammie Moshenberg
Arthur Peabody
Alison Silberberg
Boyd Walker
Once again, members of the Alexandria City Council cast aside hours of bitter opposition to support a controversial plan. This time, though, an election is days away. And candidates will be judged in part on their support or opposition to the Beauregard small-area plan, a controversial proposal to demolish hundreds of low-end garden apartments in favor of high-end housing, offices and hotels. During a contentious daylong public hearing on the plan Saturday, opponents of the plan were calling for 20 percent of the units to be set aside as dedicated affordable housing.
"Nobody is saying no to the 20 percent. It could be 50 percent. Pick a number," said Mayor Bill Euille in response to one of the speakers. "No matter what the number is, it's the almighty dollar. And that's the hang-up. That's what inhibits us in meeting any goal."
Supporters of the plan say it represents the free market at work, with a lack of housing supply in Alexandria leading to sharply increased demand. The deal that was finally struck after the daylong public hearing sets aside 800 units of dedicated affordable housing for those who meet the income requirements, although opponents pointed out that the city has yet to conduct a tenant survey. One of those opponents was Democratic City Council candidate Boyd Walker, who compared the Beauregard plan to urban renewal.
"Working in the African-American community, I have learned that they still call it black removal," said Walker. "So what should we call what's happening today? I have a suggestion: Latino removal."
Vice Mayor Kerry Donley took issue with the characterization
"For you to stand up here and say that this is Latino removal is absolutely ridiculous," said Donley. "You know, I will tell you, you are asking us to turn down a plan, well that is a guarantee that all that market-rate affordable housing will be gone."
LIKE THE STREET that bears his name, Confederate Gen. Pierre Gustave Toutant Beauregard was difficult to manage. The hothead rebel couldn't get along with superiors, and now the small-area plan named in his honor may be sparking its own Civil War in Alexandria. The 30-year proposal covers a sweeping 400 acres west of Shirley Memorial Highway, including almost 200 acres of land slated for redevelopment. The vision of the plan is to create "a series of new urban neighborhoods" with housing that is connected by transit.
"This is one of the most significant transit-oriented smart growth plans the city has ever done," said Councilman Rob Krupicka.
The plan adopted last weekend will more than double the density of what's there now, increasing from a low-slung 6 million square feet of existing development to 12.4 million square feet of new development. Upzoning the properties will significantly increase the value of the land, benefiting the land owners and developers. In exchange, city officials are getting $154 million to build a new fire station, pay for transit infrastructure and create dedicated affordable housing units. That wasn't enough to silence critics.
"From the waterfront to Beauregard, we see a troubling pattern," said Bob Wood, Republican candidate for City Council. "Once again, there is an apparent rush to failure in the planning process that makes no sense to most citizens."
CENSUS DATA indicate this part of the city has some critical differences from other neighborhoods. While 24 percent of the city is foreign-born, 43 percent of the Beauregard area is foreign-born. While 57 percent of city residents are renters, 86 percent of Beauregard residents are renters. And the median household income in Beauregard is $59,000 compared to $80,000 in the rest of the city. Opponents of the plan repeatedly called for a survey so city officials knew the income of people who live here so they can make sure the affordable housing options won't be displacing the city's most vulnerable citizens. Some estimate that as many as 5,000 city residents will be displaced by the plan.
"This is a watershed moment for the City Council," said Ernie Lehman. "This could be called the Alexandria tenants trail of tears."
Aside from affordable housing, one part of the plan that prompted criticism was a new traffic ellipse at the intersection of Seminary Road and Beauregard Street. Transportation planners say they are concerned about the safety of the triple left turn lane from Seminary onto Beauregard. So the plan calls for a traffic ellipse to allow drivers exiting the Interstate to stay in the right lane to get to the Mark Center, where more than 6,000 new employees work at the new Washington Headquarters Service. City officials say they considered a traffic circle, but that doesn't store enough cars waiting to get into Mark Center.
"It seems very convoluted to me," observed Councilman Paul Smedberg.
Now that City Council members have adopted the small-area plan, more steps are needed before the transformation of the West End can begin. First, there's the survey of existing tenants. Then City Council members must approve zoning changes. Ultimately, the developers will have to secure development special-use permits before demolition can begin.