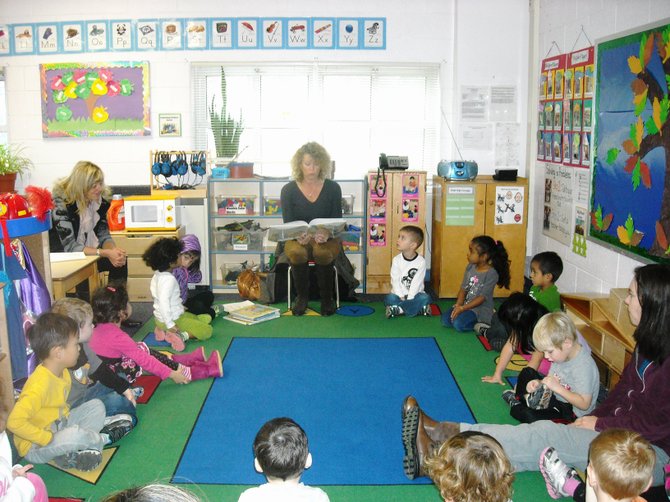 Preschool–age children who attend the Falls Church-McLean Children's Center chose a book about the family to take home and keep when the New Dominion Women's Club of McLean distributed books on Friday, Nov. 16, in time for Thanksgiving, a time when families often gather with relatives to celebrate the holiday.
The free books were made possible by the Reading is Fundamental program with a grant from Macy's Be Book Smart campaign.
Christy Murray, a member of New Dominion Women's Club (NDWC) is the club Reading is Fundamental (RIF) liaison to the Children's Center. "NDWC feels fortunate that we can help instill a love of books and learning in the children attending the center by reading to them and giving each child the opportunity to select a book to take home," Murray said. "Macy's Be Book Smart campaign has provided a much-appreciated boost to the RIF program at the center."
NDWC sought and received the Macy's grant of $25,500 to purchase books for the Children's Center and 11 others of the 55 RIF programs throughout Northern Virginia that the group supports each year by offering free books for children to take home. They sought private sources for books after Congress in 2011 eliminated the $24.8 million in funding for RIF, which has been providing books to children since its founding in 1966. RIF aims to serve at-risk children from birth to age 8.
Sixty percent of the children who attend the Center's Center are from low-income, working families who otherwise would start school with language, academic and social skills lagging behind their peers and would be at great risk for failing in school. Research shows that children who start kindergarten without age-expected skills are likely to never catch up and instead drop out before they graduate.
NDWC has contributed grant money annually for more than 30 years to purchase books through RIF for distribution at the Children's Center.
The center was founded in 1968 and is dedicated to serving all children, regardless of their family's resources, to give them a solid foundation on which to build the rest of their lives.
Macys has supported the RIF program since 2004, raising more than $21 million for RIF and its community-based programs.