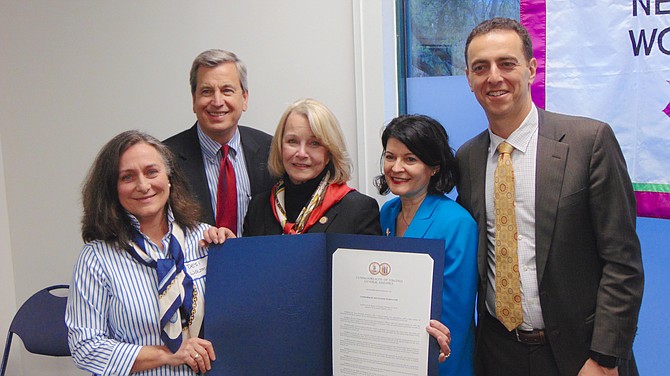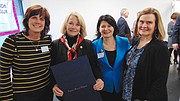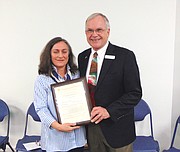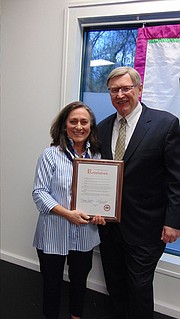 Several local politicians and VIPs from McLean helped the New Dominion Women's Club (NDWC) celebrate its 50th Anniversary with a reception at the McLean Community Center's office space on Thursday, April 19. Elected officials shared their various commendations, greetings and resolutions that they read into their records, while club members sipped wine and sampled hors 'd'oeuvres.
Officials present included Del. Kathleen Murphy (D-34); Sen. Barbara Favola (D-31); Dranesville Supervisor John Foust; Del. Rip Sullivan (D-48); Del. Marcus Simon (D-53); and Dave Stegmaier, representing Rep. Barbara Comstock's (R-10) office.
The club with 45 members was originally founded as the Junior Women's Club of McLean in the spring of 1968 by a group of civic-minded, dedicated women, said NDWC President Desi Woltman. Its official flower is the daisy and its colors are emerald green and gold.
"Over the last 50 years, we've continued to build on our legacy of civic stewardship by staying true to our mission, which is to enhance the quality of life in our community through volunteer service and financial contributions while providing an opportunity for fellowship among women," said Woltman.
THROUGH FUNDRAISING PROJECTS, the club gives thousands of dollars each year to its beneficiaries, which this year include: the Friends of Pleasant Grove, McLean Project for the Arts, Safe Community Coalition, and SHARE Inc. of McLean. In addition, they've undertaken a 50th Anniversary fundraiser to support McLean Community Center and hope to raise enough money to help them defer some of the costs of line items that weren't included in their renovation. The club has also been long-time supporters of Reading is Fundamental, Adopt a Highway, and is probably best known for supporting the Children's Art Walk.
Past President Amy Swaak who is the current VP of Programs and 10-year member added: "We do hands-on volunteering. We have brought the Children's Art Walk to ArtFest for many years. We did a food drive just recently for SHARE Inc. We also do Adopt a Highway. So not only are we having our wonderful monthly meetings where we are able to socialize and have great friends, but we're also giving back to the community every year."
"We just had a successful food drive with SHARE of McLean two Saturdays ago with Giant Supermarket. It was terrific. We raised more than $1,000 for SHARE as well as filling up a truck of food from very generous donations from people who were shopping that Saturday, April 17," added NDWC member Kitty Gonzalez.
"We raise money all year long to do good and give them the proceeds from all the fund-raising we do throughout the year," she said of the club's beneficiaries. She also mentioned the fashion show fundraiser with Bloomingdale's in mid-March.
"Also, we are engaged in doing a big project this year in honor of our 50th Anniversary, a fundraiser for the McLean Community Center. … Our goal is to raise $5,000 to help them with extras that they need for the renovation that aren't covered under their current budget," she said.
ADDED SIMON: "The New Dominion Women's Club is a great asset to have here in McLean. It's been going on for 50 years; it carries on this tradition of service to the community. When you come here, it's always a 'Who's Who' of McLean. They're here for the right reasons; it's a social club; it's a chance to get to know each other and spend time together, but it's also here to enhance the community in McLean. They take on charitable projects, they provide a place for fellowship and McLean wouldn't be the same without them."
"I think we are an extension of the long tradition of women's clubs that have been pillars of American society since before women had the vote. It's more challenging for organizations like ours to continue to thrive because so many women now have professions and they're busy, but it's wonderful that women still manage to find the time to be supportive in the community and support the things that matter to us personally," added Woltman.