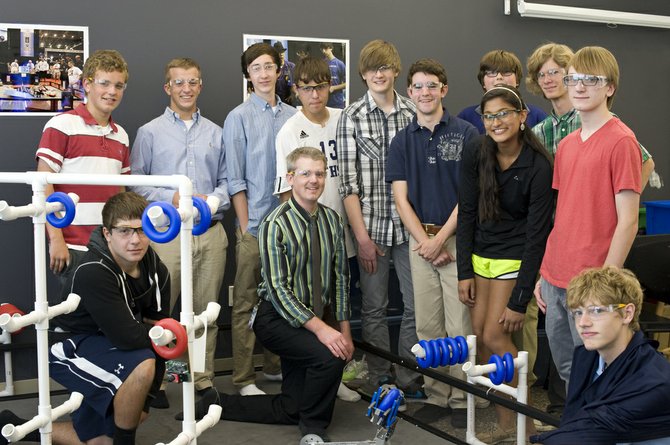 At the FIRST qualifying event held at Sidwell Friends, Flint Hill School took the top two spots. Flint Hill "fielded" three teams at the competition that brought schools from all around Maryland and Virginia. Team 6652, Flint Hill's team that took top honors, the point spread was a 65 points above any score so far in national competition. They also won the "Inspire" award.
The FIRST Tech Challenge is a competition that is introduced to high school students each year by Segway inventor Dean Kamen. The program is focusing around the idea of engagement and inspiration through science, and especially robotics. They kicked off with the release of an instructional video explaining what a robot must be able to accomplish in a set course. This year it must lift plastic tubes on spindles, detect what tubes weighed more, and also outwit their opponent by placing tubes on both sides of the course.
The challenge is that each team has both an autonomous and a driver-directed part of the competition. In the autonomous play, the robot is programmed to detect and accomplish a specific task all on its own. The driver-directed play includes two students who are charge over the robot via a joystick. In both cases ingenuity and thinking out each step of every movement is critical.
Professor of math and computer science Mike Snyder joined the Flint Hill faculty just two years ago with the goal to launch a stellar robotics program, an area he heavily invested in at his previous school. Now, Snyder has brought the students to the point of competing in this year's FIRST Tech Challenge, an international robotics competition which he helped a student team take third place in three years ago. His work with the students is shared with Professor of Science Alex Lester.
Since Snyder is also working with Flint Hill fourth through sixth graders on a similar FIRST Lego challenge, he is now affectionately called Mr. Roboto.
This kind of teaching and practice is an example of what STEM really can mean in a student's experience. Snyder would be the first to help students with the definition of a quadratic formula, for example, that it is an equation that contains coefficients and has two solutions or roots. He could chalk it up with "a's" and "x's," equal signs and powers of two. But Snyder wants students to experience the math, see the formula at work and understand its significance.
And the students are responding with passion. "I'm definitely excited about this class," says Chris Salmon '10. "I was accepted to TJ, but I wanted to come to Flint Hill because it's more individualized. Robotics brings together the best aspects of math and science, and, because you're part of a team and going for a common goal, friendships extend outside of school."
Thomas Briggs '11, part of Build Team 5904 agrees. He says he wants to study mechanical engineering in college and this class allows him to get an active jumpstart on that passion.
In all, 17 Flint Hill students competed on three teams. There were 12 teams in Sunday's competition. The next step for the Flint Hill Robotics teams is on Jan. 19, where they look to make a strong showing at the Virginia qualifying tournament before they make their appearance at regionals in February.
See a video of the competition at http://www.youtube.com/watch?feature=player_embedded&v=rvB1MDz8EH0