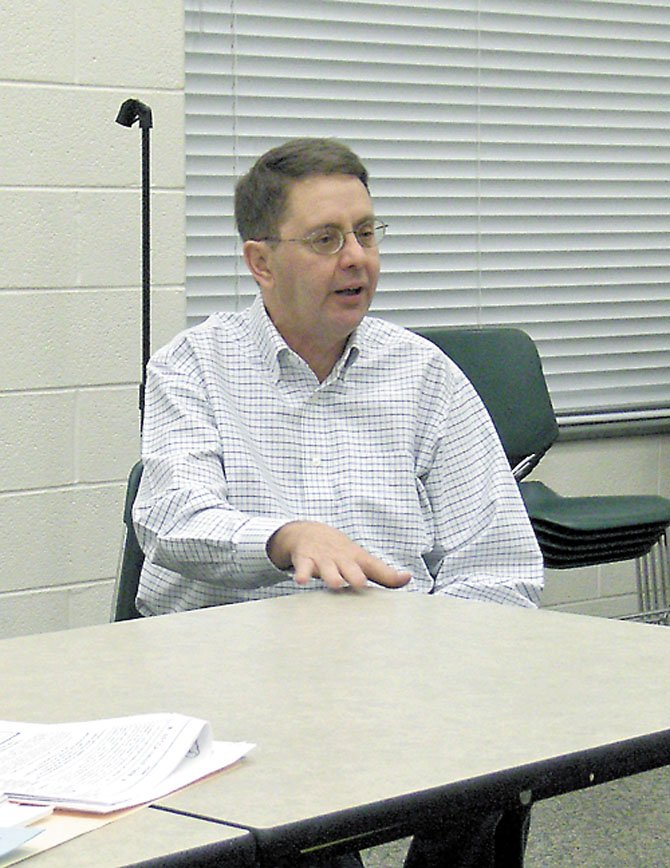 It's a new year and it's full steam ahead for the Fairfax County Board of Supervisors. And last week, Supervisor Michael R. Frey (R-Sully) discussed what's on the local horizon.
Addressing the quarterly meeting of the West Fairfax County Citizens Association (WFCCA), on Monday, Jan. 16, he said there's no question that 2012 will be a year of change.
"Some good things are going to happen and I think the economy will improve a little bit," said Frey. "The biggest thing, I think, that's holding back a full recovery is uncertainty. Until they get their act together at the federal level, business owners don't know what to do."
He doesn't foresee any large-scale business expansions "until [the federal government] gets the budget and deficit in order — and that won't happen until after the [presidential] election. Congress doesn't seriously think businesses are going to invest when they pass budgets in two-month increments. It's not going to happen."
For Northern Virginia, said Frey, "It's going to be a constant battle in Richmond. The governor put $2.2 billion into the state pension fund, and our School Board put it in a reserve account, so good for the School Board."
"The Massey Building is 50 years old and it's falling to pieces."
— Michael Frey, Sully District Supervisor
Noting that six out of the 12 School Board members are new, he said he'll be curious to see which pre-election issues come back and which ones will go forward. In addition, he said, "The Superintendent's budget asks for a 9-percent increase in the school budget and an 8-percent increase in the [monetary] transfer from the Board [of Supervisors]."
Both boards plan a joint retreat for direct, board-to-board communication. "In my 20 years on the Board [of Supervisors], it'll be the first time that both boards have spent a full day together," said Frey. "We'll talk about our relationship and shared responsibilities."
The supervisors will have their own retreat, Feb. 6-7, to discuss issues they'll face over the next four years. They'll also reveal what each views as the priorities and challenges facing their particular districts, as well as the big-ticket items such as the county budget, the Dulles Rail project and transportation funding.
"What's guiding everything this year will be the search for a new county executive," said Frey. "Anthony Griffin has had that position for 12 years and was deputy county executive for 11 years before then, so there'll be a huge, institutional-memory loss when he leaves. He's solid and steady and has kept things moving in the right direction, and it'll be hard to replace him."
Furthermore, Frey said many county government officials hired in the 1970s and '80s are now leaving or retiring from their posts, so that, too, adds to the changes at the local level. So he believes the county should focus on its strengths.
"The things we do, we need to continue to do well," he said. "We can't compromise on education and public safety. We'll also need to make judgments on what we shouldn't do. The devolution of authority for secondary roads is off the table for now, but it could come back; and if so, we could do it in increments."
Frey said the county doesn't want to get involved in having responsibility for maintaining primary highways, such as Routes 50 and 29, which are intended to carry through traffic. Recently, county officials were considering seeking responsibility for secondary roads, carrying more localized traffic.
"There's some benefit to talking to VDOT and the General Assembly about it," said Frey. "But one thing I insist on is statutory authority for revenue from a share of the gas tax. The General Assembly will never give us [road-maintenance] money on an annual basis. So we can't take control and trust Richmond to pay us a fair amount each year."
The idea came up, he explained, because the county's receiving no money from the state for secondary roads, for the next six years. And these funds are also used for related items including traffic-calming projects, stop signs and traffic signals.
So, said Frey, "We can't give all our gas-tax money to Richmond and assume responsibility for the secondary roads. But clearly, if there's a year we should do it, this is it — because next year is the governor's election."
Stressing the "terrible congestion" in the Sully District, he said the worst traffic currently is I-66 East to Route 28 North. "In the mornings, it's just a nightmare; traffic backs up on the ramps," said Frey. "So the top priority for Sully in the next four years is getting 66, 28 and Braddock and Walney roads figured out."
"After fixing it three years ago, traffic there is getting backed up again," he continued. "It's affecting morning and evening commutes, and east-west and north-south routes are getting clogged because of that interchange. Del. Jim LeMunyon [R-67th], [Virginia Secretary of Transportation] Sean Connaughton and I are trying to do something about it."
Frey said the county's deferred many capital improvements because it couldn't afford to pay the debt service, but it still has a AAA bond rating. Yet, he said it lacks the money to do all the needed school renovations. In addition, said Frey, "We know some of our park facilities are falling behind and we're trying to play catch-up."
Then there's the problem of the Massey Building, which houses Fairfax County's fire and police headquarters. "We're going to move forward in the next two or three years with a public safety center," said Frey. "We have no choice. The Massey Building is 50 years old and it's falling to pieces. It's loaded with asbestos, and the roof leaks — and freezes in cold weather. And there have been times when the 11th and 12th floors have gotten so wet that the electricity has faltered and data has been lost."
He said it makes the most sense to locate the new facility across from the county Government Center, next to the Herrity Building. Besides that, said Frey, it's always been in the county's Comprehensive Plan to do so.
We can't compromise on education and public safety."

— Michael Frey, Sully District Supervisor
Regarding rail to Dulles, he said it must be completed. "I'm not sure how but, in the next 30-60 days, we'll have to make a decision whether we're in it or not. That's when we'll get the last cost estimates."
But he said the county can't build a Route 28 rail station because it can't finance it. "We're now talking about something in the range of $2.8 billion for phase two [of the overall project]. It's at least $100 million underfunded and, possibly, $200 million. Our obligation is 16 and one-fourth percent; we're on the hook for $138 million for the station and two parking garages."
Frey also stressed that the Tysons Corner redevelopment has "huge implications" for Fairfax County's tax base. "But Sully and the other areas of the county are important, too," he said. "We can't [only focus on Tysons] and forget the rest of the county."