With Supervisor Michael R. Frey (R-Sully) opting not to run for re-election, his recent State of Sully address may well be his last one. He gave it June 24 to the Sully District Council of Citizens Association.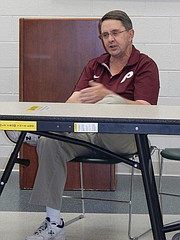 He began by thanking the council members for all they've done for the community in matters of land use and transportation. "It's been a good run," he said. "We've worked together on an awful lot of things and I've valued your input."
The World Police & Fire Games are now over but, at the time of his speech, they were just about to start, and Frey was looking forward to Fairfax County hosting them. "We went to Vancouver in 2009 to make our presentation and were awarded the games for this year," he said.
Aside from the international sports competitions, he noted the many thousands of friends and family members of the athletes who'd be "staying in our hotels, eating in our restaurants and visiting our sights." Furthermore, said Frey, "We thought we needed 4,000 volunteers but, as of last week, we had over 5,800 names in the volunteer data base, so the community has embraced it."
Meanwhile, he's still busy with the demands of his job. "I'm trying to wrap up 37 years with Fairfax County and 24 years as supervisor, in my last six months, especially some of the large, land-use cases," he said. For example, he said the Board of Supervisors approved the Akridge amendment to the county's Comprehensive Plan for the Westfields area and, on July 28, it'll hear Akridge's rezoning proposal.
Likewise, Frey said the Wegmans Comprehensive Plan amendment will go before the county Planning Commission in July and the supervisors in September. "I understand there's tremendous, public support for the Wegmans [also proposed for Westfields], but it still has to go through the process," he said. "And we have to be careful because it'll have a tremendous impact [on the surrounding area]."
Also on the table is an application for a residential development in Centreville's Trinity Centre. As with Akridge, he said, "The common theme is a developer seeking to convert property planned for offices to residential use. We have to be careful not to undercut the [county's] tax base; but all of [these areas] are long-standing office zones that haven't developed after many years. So I think it's appropriate to look at it."
Regarding the current plans to revamp and improve I-66, Frey said there's "no more important project in this region, and I understand and empathize with the residential communities adjacent to this corridor. One option reserves the median for future transit, retains a rapid bus program and includes HOT lanes. We need to work with communities, but we also need to do what has to be done. This is a $3 billion project and this is our chance to do it right."
Currently, he said, "The Board [of Supervisors] is split on this [matter]. Some don't want to touch any homes, and others believe I-66 is the lifeline of Northern Virginia and tough decisions have to be made."
Also important, said Frey, is the Bi-County Parkway. "We need to pick up Prince William [County] traffic and put it on a new, North-South corridor before it gets to Fairfax County," he said. "Otherwise, communities like Virginia Run will continue to be inundated with this traffic. The jobs are in Reston-Herndon and Tysons-Fairfax County, and that's why people are driving through here — because there's no other way to go north."
In another transportation matter, Frey said, "We're working on widening Route 28 and the board has made it a priority for NVTA [Northern Virginia Transportation Authority] funding. But widening all the roads won't solve the transportation problems."
He said next year the supervisors will be dealing with county and school budget shortfalls, and "the economy isn't rebounding fast enough to make up for them. Schools continue to grow populations, such as special-needs and ESOL students, that are expensive to educate, so I fully understand why they ask for more money. But there's a limit to what we can do when the bulk of our revenue comes from property tax."
Saying that the county wants people to be able to grow old here, Frey said their ability to do so also has to do with the amount of property taxes they pay and the levels of service they receive. So, he said, "The next board will have a tough job. The budget will dominate for the first five months and it'll affect everything we do."
He said the state is selling the Northern Virginia Training Center — 78 acres in the heart of the county. "Some board members want to buy it, but how do we get the money?" asked Frey. "It falls in the 'nice to have' category, not the critical." He also noted that the county recently having to pay a $27 million lawsuit further added to the budget problems.
"Body cameras for the police are a no-brainer for transparency," he said. "But it costs $4 million to $10 million a year to store the data. So there are things we'll have to take a hard look at. But once I'm gone, I won't be watching the board hearings and budget meetings on channel 16."
Frey said the county could sell bonds to raise money for projects, but "we have to have a balanced budget. Interest payments can't exceed 10 percent of the General Fund; we're hovering around 9 percent now. Our General Fund budget is $3.8 billion, so we could pay debt payments of about $380 million a year."
He said school and public-safety bonds will be on this year's ballot, and the county believes they'll pass. "We have a triple-A rating from all three, major, bond-rating agencies, but we're on watch from Moody's," said Frey. "So we're gradually going to take our cash reserves from 5 percent to 10 percent."
Following his remarks, Sully District Council member Mark McConn asked simply, "Michael, why are you leaving?" And Frey replied candidly.
"I thought about my life and what I've accomplished," he said. "I thought about it four years ago, but I wanted to be on the board when we had the Police & Fire Games. And eight years ago, it was creating the Centreville Historic District and also the Sully Woodlands. But looking ahead, I don't have anything like that coming up, so it's time."
"I love kids' sports and animals, and I don't have to be on the board to stay involved in them," continued Frey. "And the county won't lack for leadership. I've been out, four or five nights a week, for 37 years, and it'll be nice to just stay home and watch a Phillies game." After announcing his retirement, he said, "I've gotten emails from people thanking me for different things I've done, and I realize I've touched some lives and hopefully made them better."
More like this story