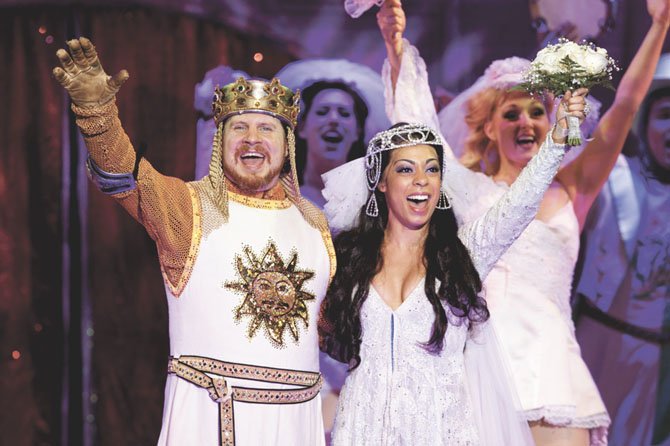 In a musical replete with flying cows, insults involving hamsters and flatulent Frenchmen, Arthur Rowan, 1997 graduate of James Madison High School in Vienna and former actor with the Reston Players, plays the straight man. In his first national performance, Rowan is starring as King Arthur in a new production of Spamalot, which will be showing at the Warner Theater in Washington, D.C. in March.
"King Arthur is the leader of the evening," said director BT McNicholl, in a recent phone interview. "He's not the showiest character, but he is the thru-line to the evening; crucial for moving from scene to scene. He is the element that unites the disparate, wacky characters together. It is his quest, after all, that we are following. What is great about Arthur in the role of King Arthur is that he is so genuine, so uncomplicated, so direct and so honest. You don't see the effort with him. He is unadorned and unaffected."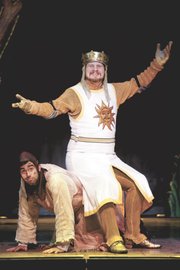 Spamalot first opened on Broadway in March 2005 and was directed by award-winning director, Mike Nichols. The show closed, with acclaim, after 1,575 performances in January 2009.This national tour is directed by McNicholl, Mike Nichols' assistant director on the Broadway production. Written by Eric Idle, Spamalot, "lovingly rips off from the movie Monty Python and the Holy Grail," tells the story of King Arthur and his Knights of the Round Table and their quest for the Holy Grail.
Rowan admits to being a fan of Monty Python. "I am that kind of geek," he said in a recent phone interview from Columbia, S.C. where the production was being staged that evening. "It is very helpful to be familiar with Monty Python. We don't model our performance off the movie. As wacky as Monty Python's writing is, they are very sincere actors. That sincerity is what I try to emulate. I prepared for this role the same way I prepared for a Shakespeare play."


ROWAN BEGAN rehearsing for Spamalot in the summer; the production began touring in October. Since then Spamalot has been in a different city almost every night. "We have literally been in 20 of the lower 49 states. It's a grueling experience because of the schedule, but deeply, deeply rewarding. Everywhere we have gone it's been a real opportunity to bring a Broadway show to smaller towns."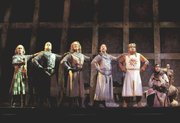 "It's a very fast moving play," said McNicholls. "Our cast gets in there and gets it done. Because it is so fast moving, it's like opening night every night. The cast is tireless. They give it their all every night."


SINCE GRADUATING from William and Mary College with a Bachelor's of Art in Theater in 2001, Rowan has been working for four years with the Pennsylvania Renaissance Faire as a performer, director and fight choreographer. Before that, he worked with several theaters in the Washington D.C. area, including The Folger Theatre and the Washington Shakespeare Company. He also did a turn as the Beast in the Reston Players 2005 production of Disney's Beauty and the Beast.
"I was working on the professional circuit doing bits with the Shakespeare Theater and other venues in the D.C. area, when I realized that it had been a long time since I had done theater just for the fun of it," said Rowan. "Reston Players was doing a production of Beauty and the Beast. I tried out and was cast in the role of the Beast. It was just a wonderful experience."
Rowan said that there are some surprises to being in a national production. The cast travels almost daily by bus from one city to the next. This leads to some creative arranging of physical space. "We are on the bus seven to eight hours a day. We all have to figure out how to sleep on the bus. Despite this, we feel very well treated," said Rowan.
Spamalot is playing in various cities coast-to-coast until April 22. It will be at the Warner Theater on 13th Street in northwest D.C. from March 13 to March 18. Tickets range in price from $69 to $194. More information about the production can be found at the Spamalot website: http://www.montypythonsspamalot.com/.