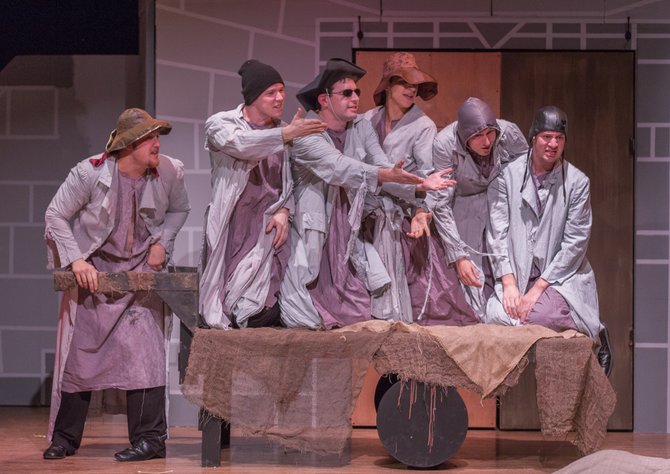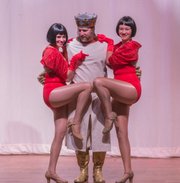 The Little Theater of Alexandria is staging the musical comedy "Spamalot" Aug. 2-23.
The irreverent play, which won three Tony Awards, including the Tony for Best Musical in 2005, is adapted from the 1975 film "Monty Python and the Holy Grail." It originally starred Tim Curry as King Arthur, David Hyde Pierce as Sir Robin and Hank Azaria as Sir Lancelot on Broadway.
"It's 'Monty Python' with showgirls and dancing and musical tunes, and all the laughter of 50 years of 'Monty Python' condensed into one show," said director Wade Corder, 51, of Springfield. "It's just brilliant."
His biggest challenge was narrowing down the 100 people who auditioned to just 19 characters. "The most wonderful thing is that it worked," said Corder, a corporate accountant by day who is directing his first LTA show. "We have a fantastic cast."
He added, "I hope the audience will take away a memory and a good strong reminder to always dance and laugh and sing."
"For people who love to see spectacles, this is their show," said producer Rachel Alberts. "It will not disappoint."

"It's a parody of 'The Knights of the Roundtable.' And there's all sorts of songs, crazy characters, and Broadway theater parodies," Alberts said. "I think people will be interested because it's funny, silly and irreverent."
With a 14-piece orchestra, Alberts said LTA likes to do big musicals in the summer. "There's heavy and serious things going on in the world right now, and this provides a wonderful escape from it all."
The cast has been rehearsing for eight weeks, and more than 100 volunteers have been putting last-minute touches on the show. Alberts said that LTA's costume designer has been working on costumes for almost a year now.
"We have so many people working behind the scenes to make this happen," said Alberts. "All of the actors and crew are volunteers. They are willing to put the time in — it's very gratifying to see the work look so professional."
Alberts said the show is comical, cartoony, bright and colorful. "It's a very positive show; it's got an incredible soundtrack. It's a true audience experience," she said.
James Hotsko, 34, of Heatherlea in Arlington, plays the role of King Arthur, who goes out looking for men to join his Knights of the Roundtable and gets charged with the quest to find the Holy Grail.
The fun part has been getting to interact with everyone and seeing what they are bringing to their characters, said Hotsko, who studied aerospace and ocean engineering and works as a naval architect. That, plus riding a horse with coconuts during rehearsals.
It may be a little cliché, but the play may teach the audience to look at the bright side of things, he said, "Life is what you can make of it; there's always going to be a silver lining."
He said one of the biggest challenges was trying to pick up the British accent. "We are trying to make sure that stays true," he said.
Ashlie-Amber Harris, 27, of Alexandria plays the role of Lady of the Lake. "She's a diva," she said. "She's beautiful, exotic and she brings a feminine aspect to the show…. Her character adds a different dynamic to the story."
"'Spamalot' is not your typical theater show," said Harris, who works as a bartender. "We kind of make fun of musical theater and we make fun of huge Broadway productions like 'Phantom of the Opera' and 'Singing in the Rain.'"
She says that one of her challenges, after watching Tony Award-winner Sara Ramirez play the same role, was to try to be original and stay true to the essence of the character and make it her own at the same time.
"It's hard to bring your own originality to the character because [Ramirez is] so fantastic, she's so spot-on with her choices," Harris said.
Nevertheless, "This is a great show because it's so much fun and it's based off an extremely iconic movie," said Harris. "I think people are going to leave with a smile and they're going to be happy and feel good."
"Spamalot" is playing at the Little Theater of Alexandria from Aug. 2-23. Tickets are $25-$30. Show times are Wednesdays through Sundays at 8 p.m. with matinees on Sundays at 3 p.m. Little Theater of Alexandria is located at 600 Wolfe Street, Alexandria. Visit www.thelittletheatre.com.