Chantilly — Set back from the road, yet perched upon a hill, the mosque that will serve area members of the Ahmadiyya Muslim community is nearing completion in Chantilly. Just off Walney Road and Eagle Chase Circle, the 7,200-square-foot place of worship is called the Mubarak mosque which, in Islamic, means "blessed tidings."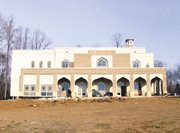 And two people looking forward to seeing it come to fruition are Usman Ghumman, general secretary and site representative for the local chapter of Ahmadiyya Muslims, and Tarek Hasan, project manager for EMSI Engineering Inc. of Manassas.
"It gives me great pleasure, being a Muslim myself, feeling satisfaction that I'm working on the house of God," said Hasan. "I feel honored and privileged to do so."
"The most important thing is that this keeps the community members together," said Ghumman. "The children will be able to learn their religion and follow the faith in the proper way by coming to the mosque."
This group is a sect of Islam whose central tenet is "Love for all, hatred for none." It condemns violence, terrorism and Jihad and, instead, believes in morality, justice and peace.
There are 70 chapters of Ahmadiyya Muslims in the U.S., including five in Virginia. About 4,000 members live in the Washington Metropolitan area. Two chapters, each with about 420 members, will share this center in the Walney Oaks community — the Northern Virginia Chapter, whose members live in Sterling, Leesburg and Ashburn; and the Central Virginia Chapter, comprised of Centreville, Chantilly, Fairfax, Gainesville and Haymarket residents.
"Mostly Centreville, Chantilly and Fairfax people will be the main users, but no more than 400 people — our maximum capacity — will attend at any one time," said Ghumman. "Usually, we average 100 people or less during normal programs and services."
Meanwhile, the Northern Virginia members have been meeting in Loudoun County, and the Central Virginia members meet in a small community center in Herndon. And they've all been waiting a long time for this mosque to be built.
The Ahmadiyya Muslims purchased the land for it 14 years ago, in 1998, and didn't break ground until March 2007. Site work — parking lot, curbs, sidewalk and utilities — began a few months later and finished in 2008. Then came lots of fund-raising to build the mosque.
"All our projects are self-funded," said Hasan. We didn't go to a bank for financing; we've been raising money since the early '90s. We spent more than $1 million on site work and about $2.2 million on construction."
Roger Bass Architects did the mosque's structural, engineering and mechanical design and EMSI won the bid to construct it. Except for the Fiberglas domes, the suppliers, builders and contractors are all local. Work on the mosque began in January 2011; a community hall and missionary residence will be added when funds are available.
The mosque is two stories and was built in the Mughal-style of architecture. "Islamic architecture dates back centuries," said Hasan. "You see it in Muslim mosques in the Middle East."
Ghumman and Hasan are especially proud of the mosque's arches, which give it its distinctive, traditional style. "Not too many people are trained in Islamic building, so Tarek perfected the arches," said Ghumman. "He tore some of them down six or seven times to make sure they were just right and all matched each other."
"Persian arches involve a lot of geometry, with angles on top and circles at the edges," said Hasan. "Even the windows and doors are shaped like Persian arches. In the Quran, it says if someone does something, he should try to perfect it — and what better place than in the house of God? So it's a big responsibility."
The Chantilly mosque also features a covered veranda where people may stand and mingle, protected from inclement weather. There are also six arches in front and two on one side, plus a minaret that will be topped by a dome.
"It's symbolic of mosque design," said Hasan. "Originally, people were called to the mosque for Azan prayers by someone standing in the minaret. Azan means a call to the faithful to drop everything and come pray. Members must walk, not run, in a dignified manner to the mosque because they're praying in front of God."
Another dome will be placed in the center of the roof. Ghumman, who's been part of this project from the start, said the parapet wall for this dome is already there and hides the building's four HVAC units. "But this wall raised the height of the dome eight feet higher than Fairfax County approved, so we have to reapply for permission to change its height from the ground from 40 to 48 feet."
However, Hasan said they'll continue with the rest of the work on the building so it won't delay anything. He also noted that the mosque won't have any bells or loudspeakers to disturb anyone. The nearest residential area is about 700 feet away, and a shopping center is across Walney Road from the mosque.
There'll be about 125 parking spaces and all parking will be on site. "Whenever we have big functions, we'll make arrangements to park elsewhere and shuttle people over," said Ghumman. "We've agreed that any overflow parking will never park in the nearest community of Walney Oaks. We also have a youth organization for ages 15-40 which does a lot of the physical volunteer work, such as traffic management and parking for large functions."
As for the building, itself, the ground-floor main level will be a men's prayer area. Since men and women are segregated in the Muslim faith, the women's prayer area is on the second floor. A finished basement will serve as a multipurpose, community area for children's religious classes, offices, social gatherings and recreation.
No shoes are allowed in the men's prayer hall. It'll be painted in a neutral white, with two shades of green carpeting to help people line up for prayers. The prayer leader, or imam, will stand in the mehrab, a half-circle area facing Mecca and jutting out toward the back of the building. Half of a dome will be on top of it. The imam leads prayers and presides over ceremonies such as weddings and funerals from the mehrab.
"When someone dies, their coffin would be placed outside the mosque, outside the vertical window in the mehrab, so the imam could see it while leading the funeral prayer," said Ghumman. "This was one of the many, small things that were missing when we didn't have a mosque."
For a marriage ceremony, called a nikah, the imam would stand within the mehrab and the bride's father or guardian would agree to the marriage on her behalf.
"But it's her decision," said Ghumman. "She'll watch the ceremony from the upstairs prayer hall, with the other women, via live video. Then she'll join her husband for the celebration afterward." He said the main reason for separating the men and women is to make both feel more comfortable and at ease.
"The main prayer hall can be accessed from four, different doors," said Hasan. "From the main entrance, people may go into the men's prayer room or to the women's lobby leading to their prayer room by elevator or stairs."
The women's prayer hall contains a large, flat-screen TV on which the imam downstairs will lead them in prayer. There's also a small kitchen upstairs, plus a nursery with one large window looking outside and another between that room and the women's prayer hall.
"Anyone from the community who knows the holy Quran well can be the imam," said Ghumman. "Young men go through seven years of rigorous training in Islamic teachings. They eventually become missionaries and are able to serve as the imam and to spread Islam wherever they are."
"Whenever the holy prophet, Muhammad — peace be upon him — would travel to a new place, the first thing he'd do is build a mosque," continued Ghumman. "So it's incumbent upon Muslims that, wherever there's even a small membership, we build a mosque."
"He even designated a tent or a place between trees," added Hasan. "The whole idea is to gather people at least once a week to meet, discuss their issues, worship and bring families together."