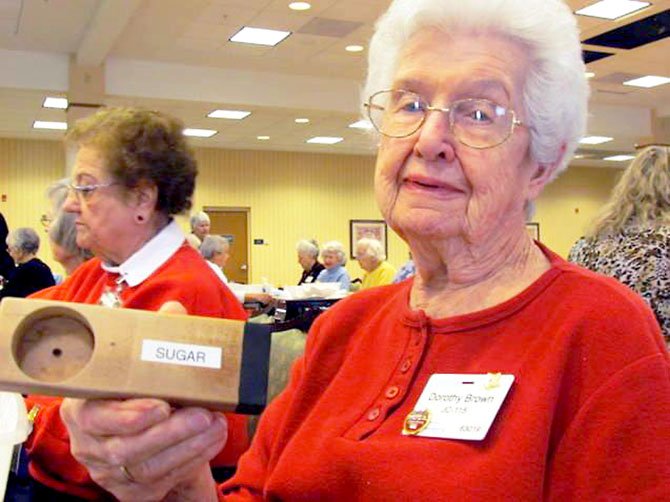 The statistics are startling. More than 1.5 million children across the globe die each year because of dehydration associated with diarrhea. Globally, dehydration from diarrhea is the second leading cause of death in children under 5-years- old, according to the World Health Organization.
Although dehydration can be deadly, the solution is relatively simple. The World Health Organization (WHO) and UNICEF developed Oral Rehydration Therapy (ORT), with the goal of reducing child mortality by two-thirds before 2015.

"(Oral rehydration) use is the simplest, most effective and cheapest way to keep children alive during severe episodes of diarrhea," said WHO officials, the leading supplier of ORT to poor countries.
On Tuesday, Jan. 31, more than 60 volunteers worked for hours assembling ORT kits, which consist of salt, baking soda, sugar, and salt substitutes. At the end of the day, volunteers assembled 5,300 kits.
"These ladies are old hands at this," said Elke Martin, Greenspring's volunteer coordinator, pointing out some of the repeat volunteers for the oral rehydration project.

"This is such a wonderful project. I volunteer for this every year," said volunteer Dot Brown, holding up her measuring cup for sugar, which was made by the residents of the woodshop club at Greenspring.

Greenspring also supports the effort through proceeds from The Treasure Chest, its on-site nonprofit thrift shop managed by resident Evelyn Jackson. Jackson, who was honored with Greater Springfield Chamber of Commerce Citizen of the Year Award in December, said ORT is one of several important programs funded, in part, by the resident-run Treasure Chest.
"We help local institutions, and we're also proud to support something like this, which helps children all over the world," Jackson said.