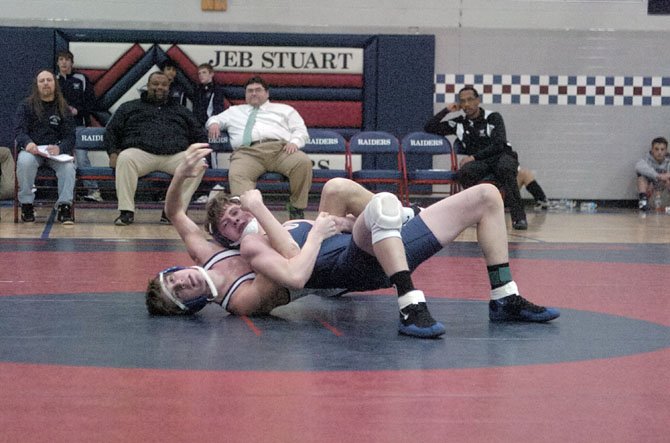 Falls Church — The Washington-Lee wrestling team's "light guys" made sure the Generals were well represented at the 2012 National District tournament.
W-L finished runner-up to Mount Vernon, sending five grapplers to the finals and coming away with two individual titles on Feb. 4 at Stuart High School. The Generals had a wrestler compete in each of the first four finals matches, starting with the lightest weight class, 106 pounds. Mason Rockman (113) and Miga Khaadan (120) captured championships for W-L, while Narankhuu Ganbaatar (106), Jose Vasquez (126) and Jared Deiner (160) finished runner-up in their respective brackets.
Mount Vernon won the title with 214.5 points, followed by W-L (175.5), Yorktown (168) and Hayfield (163.5).
"Our light guys have been our strong suit. … Those guys have been

our rocks."

—W-L wrestling coach Derek Sweet
"Overall, I'm pretty pleased with our performance," W-L head coach Derek Sweet said. "We came in here knowing we had a shot at the No. 1, but overall, a second place finish isn't too bad. … Our light guys have been our strong suit. … Those guys have been our rocks."
Rockman, a freshman, pinned his opponent with 25 seconds remaining in the second period.
"I just went in thinking, hey, you've got to win, you've got to win," Rockman said. "I just wanted to start off getting a couple points on the board. I know I'm a cradle guy, so I thought I'd work the cradle on him and get it."
Sweet said Rockman's success is the product of a strong work ethic.
"Mason, our freshman phenom right now, he's been working his butt off all season, wrestling seven days a week and you can tell it's paying off," the coach said. "… He's got a very bright future. His neutral work I think is his weak point, but once he gets you down, he's a cradle machine."
Khaadan, who also recorded a second-period pin, repeated as district champion for W-L. Deiner, whose record is 31-8, is the first 30-win wrestler in program history, Sweet said.
The Northern Region meet will be held Friday and Saturday, Feb. 10-11 at Hayfield Secondary School.