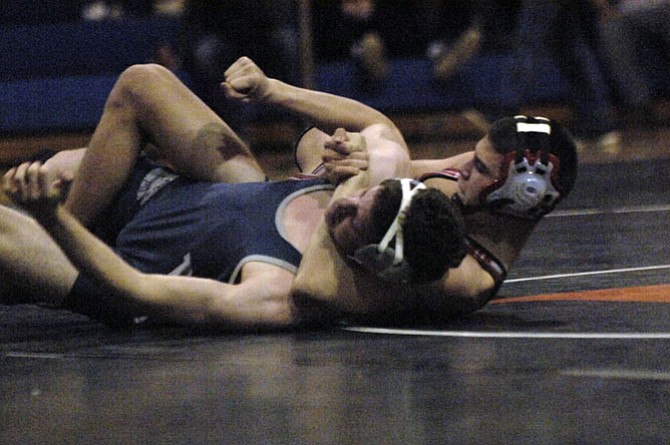 After Madison grappler Luke Kustra won the 145-pound final by decision, McLean junior Conor Grammes knew what needed to be done.
Grammes was about to wrestle in the 152-pound final, which was the last match scheduled in the Conference 6 championship wrestling tournament Saturday at Hayfield Secondary School. In order for the Highlanders to surpass Madison for the team title, Grammes not only had to win, he had to win convincingly.
"Once [Madison won the 145-pound match]," Grammes said, "my mindset was pin all the way."
With the fate of his team riding on his performance, Grammes wasted little time delivering a championship.
Grammes took control of his opponent early, pinning Washington-Lee's Thomas Sheehy with 59 seconds remaining in the first period. The pin earned the points necessary to catapult McLean over Madison in the team standings and give the Highlanders the conference title.
McLean finished with a score of 269.5, edging Madison's total of 268.
Hayfield finished third with a total of 238.5, followed by Fairfax (179) and Washington-Lee (179), Yorktown (130), Langley (126) and South Lakes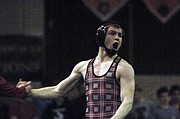 "I was pretty nervous going in," Grammes said. "Knowing you need a pin is not the easiest thing. There's a lot of pressure --- the whole team championship is riding on you. I tried to keep focused, tried to just keep calm and not get too into the moment and just keep my head right."
For Grammes, it was his third consecutive individual Liberty District/Conference 6 championship. He won the 106-pound title as a freshman, and finished first as a 132-pound sophomore. Grammes also won the region as a freshman and placed sixth at states last year.
"If there's anybody that I wanted to come out there with that type of pressure, it would be him," McLean head coach Ken Jackson said. "He's definitely our rock of the team ... He went out and did his job, just like always."
Grammes was one of five Highlanders to win an individual title.
McLean's Mack McCune, a junior, placed first in the 170-pound bracket and won the meet's Most Outstanding Wrestler award.
"One thing Mack doesn't lack is heart," Jackson said. "This kid, no matter what the score is, his heart is completely in it. He was down 3-0 going into the final period and ended up getting a pin. Without that, we don't win the title."
Sophomore Brendan Grammes won the 120-pound title, senior Eric Johnston won the 126-pound championship, and sophomore Gavin Legg placed first at 160.
Madison had four grapplers win titles: Tyler Megonigal (132), Taylor Christensen (138), Drew Smith (285) and Kustra.
Other individual champions included: Fairfax's Vincent Tammaro (106), Hayfield's Grant Saunders (113), Hayfield's Antonio Agee (182), Yorktown's Jason Kappel (195), and Washington-Lee's Ethan Guenther (220).
Dillon Suzuki was South Lakes' top finisher, placing third in the 113-pound bracket.
The 6A North region tournament is scheduled for Feb. 13-14 at Centreville High School.