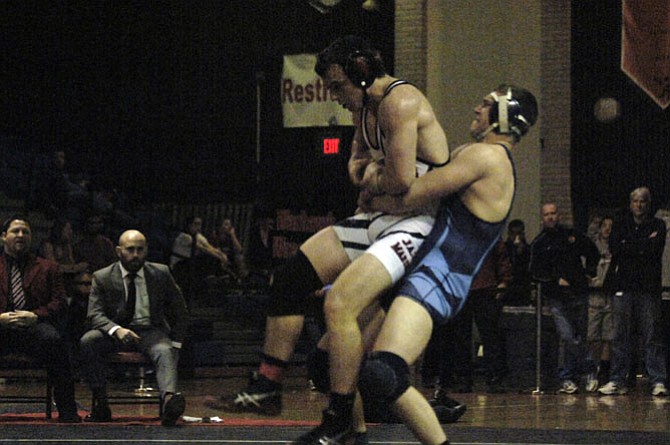 The Washington-Lee and Yorktown wrestling teams were well represented in the final round of the Conference 6 championship tournament Saturday at Hayfield Secondary School, but each school managed to win just one individual title.
On a day dominated by McLean and Madison, W-L junior Ethan Guenther and Yorktown senior Jason Kappel captured conference championships for their respective Arlington schools.
Guenther won the 220-pound final, beating Hayfield's Brendan McCarron via 5-3 decision. Guenther trailed 3-2 early in the third and final period, but tied the score with an escape before scoring the winning points with a takedown.
"I was a little nervous, but I didn't want to get ahead of myself," Guenther said of his third-period deficit. "If I can make the match go on longer, I figure can handle that. I was hoping the longer it went, I could maybe outlast him — I'm good at outlasting opponents. I've done that a fair amount over my career."
Guenther said Saturday's victory was the product of a long journey.
"I wasn't very good at first. I struggled a lot," he said about his experience wrestling in the sixth grade. "... In 10th grade ... I got fifth place in the conference. I think we all saw what happened this year."
Guenther was one of four Generals to reach the finals. Jose Araujo finished second in the 145-pound bracket, Thomas Sheehy was runner-up at 152, and Nikolay Valov placed second at 182.
Yorktown's Kappel wrestled at 182 pounds for most of the year before moving up to 195 for the postseason. Kappel defeated Madison's Ryan Partridge via 4-2 decision to win the 195-pound championship — the first conference title of his varsity career.
Kappel took the lead with a reversal in the second period.
"It's a great feeling," he said. "Three years of hard work paid off. It means a lot because I worked hard for this. Seeing all my teammates out there cheering for me; that meant a lot."
Kappel was one of three Patriots to reach the finals. Talha Farooq finished runner-up at 113 and Kyle Callan was second in the 120-pound bracket.
Other individual winners included: Fairfax's Vincent Tammaro (106), Hayfield's Grant Saunders (113), McLean's Brendan Grammes (120), McLean's Eric Johnston (126), Madison's Tyler Megonigal (132), Madison's Taylor Christensen (138), Madison's Luke Kustra (145), McLean's Conor Grammes (152), McLean's Gavin Legg (160), McLean's Mack McCune (170), Hayfield's Antonio Agee (182), and Madison's Drew Smith (285).
McLean captured the team title with a score of 269.5, edging Madison's total of 268. Hayfield was third with a score of 238.5, followed by Fairfax (179) and W-L (179), Yorktown (130), Langley (126) and South Lakes (70).
The 6A North region championship tournament is scheduled for Friday and Saturday at Centreville High School.