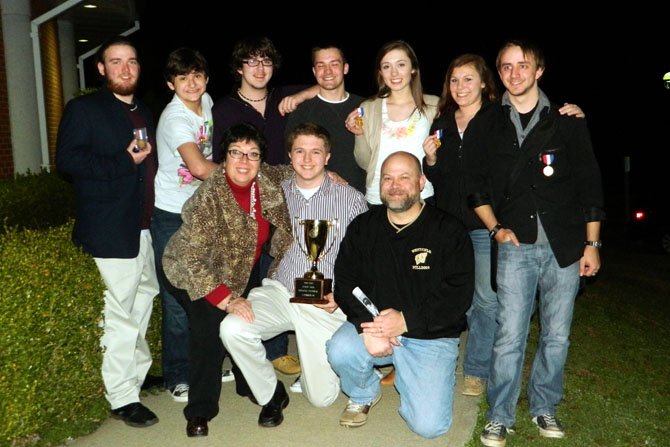 Chantilly — There's rejoicing at Westfield High. The school's thespians captured a state championship Saturday, March 3, at the VHSL One-Act Play competition in Charlottesville.
Their winning entry was "Oleanna," a drama by playwright David Mamet. It took second at Districts and Regionals, but roared to the top for Westfield's first-ever, One-Act victory at states. Chantilly High's comedy, "Going to School," came in fourth.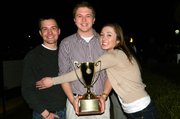 "We were incredibly ecstatic," said "Oleanna" student director Joey Biagini. "I don't think any one of us ever expected to win it. We had modest expectations because we were coming in as the second seed from the Northern Region."
The show had a cast of only two — juniors Mitchell Buckley and Madeleine Bloxam — and, in honor of their talents, they each received "Outstanding Actor" awards at states, recognizing them as among the best actors in Virginia.
"Oleanna" is about a college professor and a female student who accuses him of sexual harassment. The outcome of this case will affect whether he gets tenure. Bloxam plays Carol, the student, who sees an ulterior motive to everything her teacher does. As the professor, Buckley portrays the relationships and ambiguity between them.
Eight schools total from all over Virginia competed in the One-Act championship, but Westfield stood out from the rest. "The judges told us they loved our 'incredibly nuanced performance,' and that was one of the things I was going for as a director," said Biagini. "Even the way someone's leaning against a desk can convey emotion. It's the style of the show; David Mamet is so exact in his language, so the challenge is in being able to draw the meaning out of every sentence fragment."
Biagini has won Cappies before, but nothing like this honor "where I presented myself as an artist and a director, and it was validated," he said. "It was great to know that the team of people I put together put on such a great show. I felt my job was to focus more on being an actor coach, rather than, for example, creating stage pictures. In this show, everything else takes a back seat to the acting."
He said winning the VHSL One-Act championship was also "cool because I believe Westfield was the only student-directed show at the state competition. I beat all these theater teachers."
Biagini hasn't yet decided where he'll attend college, but says his future will involve theater somehow. He also had high praise for Bloxam and Buckley. "I'm so thankful to be able to work with such amazing performers," he said. "In the end, our play's success was on their shoulders."