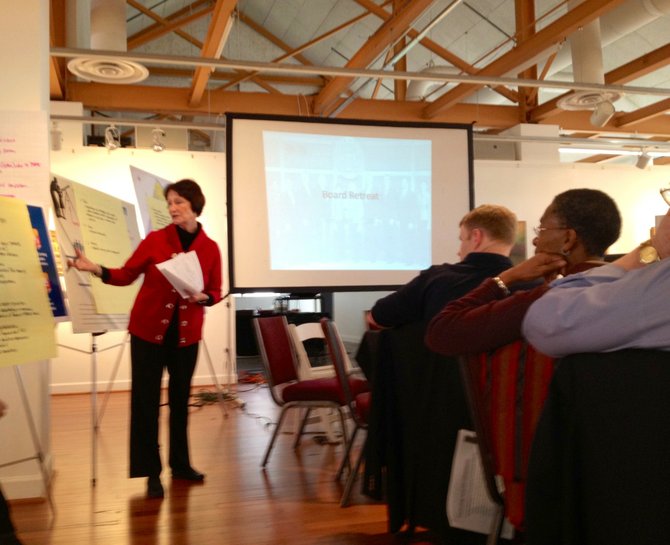 Last week, it looked as if the Virginia General Assembly might give Fairfax County a new funding tool: the right to generate new revenue through user fees, such as tax on restaurant meals, which would drive down the County's reliance on property taxes.
"We had heard rumblings that the state might give us the authority to do that," said Supervisor Jeff McKay (D-Lee), chairman of the board's transportation committee. "That's how we started talking about a meals tax that would generate revenue for transportation upgrades."
But when McKay and several other supervisors went to Richmond last Thursday to review the bills coming out of the Virginia General Assembly, they spotted the stick that came with that carrot.
"Yes, they were saying, 'we'll give you this authority, but you also have to take responsibility for maintaining your roads,'" McKay said. "The other shoe dropping was basically the sound of devolution… Essentially, the state would be handing us a badly broken road system without the funds to even bring it up to a barely acceptable level…That's what really infuriated me."
Virginia is one of three states in the country where the state, rather than local counties and municipalities, have the responsibility to maintain substantially all public roads. McKay said the pending legislation would transfer that maintenance responsibility to the County (a process known as devolution), but not return to the County any of the state tax revenues that currently pay for that maintenance. Officials in Fairfax County, as well as other Northern Virginia counties, are adamantly against devolution.
"It's time for Fairfax County to stop being the state's ATM machine," McKay added. "The state continues every year to suck more money from Northern Virginia…We're not going to let the state off the hook for its responsibility to maintain our roads."
Rather than relying upon the Commonwealth to grant the County additional taxing authority to address anticipated budget shortfalls, supervisors are now considering asking voters to approve a meals tax through a referendum. Such a referendum would not require additional authority from the General Assembly.


A VOTER REFERENDUM on a meals tax is an idea that gained bipartisan support during a two-day retreat for the board held last Monday and Tuesday, Feb 6-7, at the Lorton Workhouse Arts Center.

Although similar referendums have failed in the past, supervisors say voters might approve the tax if they were assured the revenue would go directly to a specific list of transportation improvements, such as widening roads and building interchanges to reduce gridlock.

Supervisor John Cook (R-Braddock) said a 4 percent tax on restaurant meals - something that Vienna, the City of Fairfax and Alexandria already do – could generate up to $80 million a year over the next decade. He said there is also a potential $150 million on the table from a list of transportation-related fees the board discussed in 2007.

"We had a pretty robust discussion during the retreat of what it would take to meet our transportation needs," Cook said. Cook said the sobering financial picture presented by County Executive Tony Griffin revealed a $300 - $400 million annual gap "between what we need in Fairfax and what we would get under current law and budgets."
"If voters approved a meals tax referendum, we could start to close that gap. It's worth having a serious discussion about this," Cook said. But Cook stressed he has not come down one way or the other on the meals tax referendum.
"We have to wait and see what ends up passing in Richmond. We need to step back and let the state have its session," Cook said. "There are all sorts of things flying around – an index tax on gas, whether or not there's devolution - and we need to have a hand on the spoon stirring the pot. I have not endorsed (a meals tax referendum) or rejected it."


CHAIRMAN SHARON BULOVA (D-at-large) said a meals tax could be a source of funding for road maintenance, education or tax diversification.
But Bulova also noted the precarious success rate of similar referendums in the past, when voters rejected tax increases in 1992 and 2002.

"A lot has changed since those referendums failed," Bulova said. "In my heart of hearts, I think we should have a meals tax because everyone around us has it. It levels the playing field."
Senator Chap Petersen (D-34) said even though Vienna and the City of Fairfax have 4 percent meal tax, "the board needs to really lobby the issue in order to get passage."
Bulova agreed, saying that community engagement is key to the success of any referendum.
"There's no way I would support putting a meals tax to a referendum without it being clearly defined. And we would have to have, if not support, then at least neutrality from restaurant associations."
Nancy-Jo Manney, executive director of the Greater Springfield Chamber of Commerce, which represents hundreds of businesses and restaurants in greater Springfield, including Kingstowne as well as the fast-growing Lorton area, said a meals tax is worth a "healthy discussion."
"To get it approved by voters we will need to be confident the revenue is used for its intended purpose. I don't think using it for general budget needs will work. It needs to be for something specific - I'd vote for transportation - and not have loop holes," Manney said. "The other primary factor would be to keep the percentage at or below our neighboring localities. A competitive meals tax would keep dining in Fairfax County more attractive."
Supervisor Pat Herrity (R-Springfield) said there was a step he thinks the board needed to take first.
"Before we reach into our tax payers' pockets and impose a tax on our restaurants and tourism industry we need to make transportation a county priority—in getting real transportation proffers from developers, in our bonding authority and in our budget," Herrity said. "We also need to work with the other urban jurisdictions in the state to get more of our money back from Richmond now that urban jurisdictions have greater voting power due to redistricting. There has been no organized effort to get that done."
Bulova said the discussion on a meals tax referendum is far from finished.
"There was agreement on the board that this was the beginning of the discussion not the end," Bulova said. "Transportation funding is parked in future transportation meeting and budget committee meetings. We don't have an action plan yet."