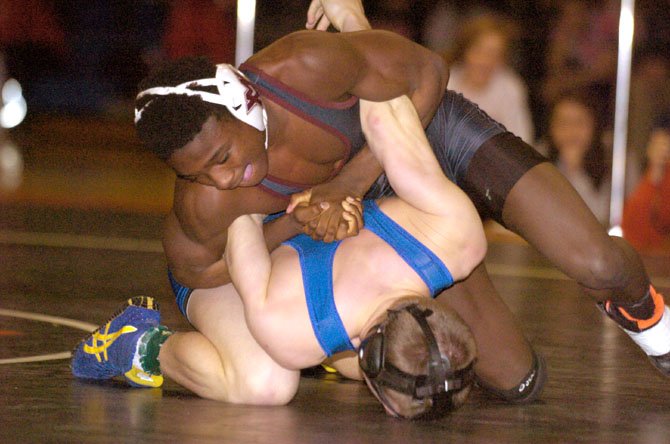 Alexandria — With the clock ticking down and the match seemingly in hand, Mount Vernon freshman Bill Adusei added style points, slamming Robinson's Austin Riggs to the mat for a takedown. Mount Vernon head coach Anthony McDuffie started high-fiving those around him as victory neared.
Adusei defeated Riggs via 12-5 decision to capture the 126-pound championship at the Northern Region wrestling meet on Feb. 9 at Hayfield Secondary School. Adusei was one of three Majors to reach the finals, but the only one who came away with a title. Mount Vernon finished third in the team standings with a score of 155.5. Robinson won the region title with a score of 232 and Westfield finished runner-up (224).
"He tried to throw me and I got a little bear hug and I just landed on top of him," said Adusei, who improved to 29-2 during his freshman campaign. "… I feel amazing right now."
Mount Vernon's Tasi Mathias reached the 195-pound final, but suffered his first loss of the season --- a 4-2 overtime decision against Thomas Jefferson's Patrick O'Connor. Vika Mathias reached the 285-pound final, but lost a 4-2 decision to Robinson's Jake Pinkston.
Mount Vernon's Nate Haro placed third in the 220-pound bracket, John Victoria (106) and Eriq Dahlum (132) each finished fourth in their respective weight classes, and Chris Johnson (120) and Joe Garza (138) each finished fifth.
Victoria, Johnson, Adusei, Dahlum, Tasi Mathias, Haro and Vika Mathias were each National District champions in their respective weight classes.
The VHSL state wrestling championships will be held Friday and Saturday, Feb. 15 and 16 at Oscar Smith High School in Chesapeake.