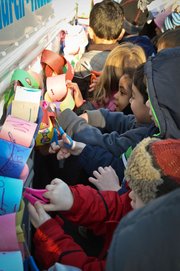 A construction-paper chain designed by the preschoolers at the Falls Church-McLean Children's Center served as the ribbon at the official ribbon cutting on Thursday, Feb. 9 of the school's new activity bus. The Center's children, ages 2-5, regaled donors to the nonprofit school's bus campaign with their rendition of "Wheels on the Bus" in thanks for their contributions. The celebration was attended by representatives from donating organizations, the McLean Community Foundation, McLean Rotary Club, Immanuel Presbyterian Church of McLean, the PNC Grow Up Great program, Home Veterinary Care of Northern Virginia and many individual donors. Fairfax County Supervisor John Foust also attended.
Founded in 1968 by 20 area faith groups, the nonprofit Falls Church-McLean Children's Center provides a non-denominational, all-day, year-round early education program to prepare young children to be ready to learn when they enter kindergarten. The Center's
5-classroom is located in a dedicated wing of Lemon Road Elementary School, at 7230 Idylwood Road in Falls Church. For more information, call 703-534-4907 or visit www.fcmlcc.org.