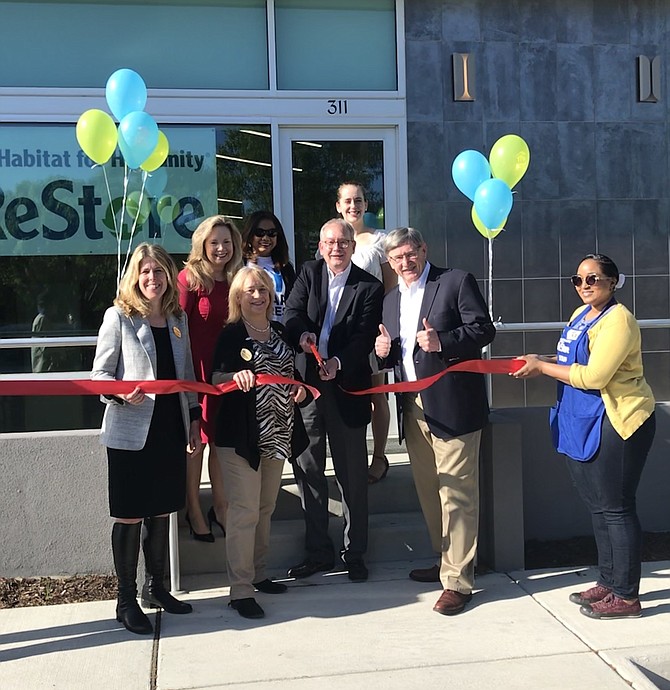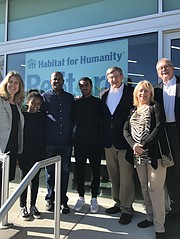 Alexandria has one. Chantilly has one. Now the Town of Herndon has one, too. On Saturday, April 27, Rev. Dr. Jon F. Smoot, Executive Director of Habitat for Humanity NOVA (Habitat NOVA) stood outside the nonprofit organization's third home improvement store and donation center, Herndon ReStore, located at 311 Spring Street. In his hands, Smoot held a large pair of scissors. Beside him, Supervisor John Foust (D-Dranesville), Town of Herndon Vice Mayor Sheila Olem, Councilmember Jennifer Baker, ReStore staff members and supporters gathered. They were there to celebrate the official opening of Herndon ReStore with a ribbon-cutting ceremony.

During remarks, Smoot said when individuals and businesses support Habitat NOVA ReStores, they help build strong and stable families and communities investing in the future. "Everyone wins when shopping at ReStore. The customer saves money by purchasing (new and gently used items) at 50 percent – 90 percent off retail prices. Habitat for Humanity receives 100 percent of the proceeds for building new homes for local families in need and we all benefit when items are recycled, rather than ending up in the landfill," he said.
Foust, whose district encompasses Herndon, McLean, Great Falls, and portions of Vienna and Falls Church, said, "I feel the greatest challenge is delivery of housing that is affordable throughout the region."
In the crowd, Yishak Sabore of Herndon and his children, Eldana Shanka, 12, and Amanuel Shanka, 18, watched and listened. Sabore's wife Sosena could not attend. Last year, the dual-income family could not escape the stresses of rent increases, overcrowding and of being shut out of affordable market options. The four shared a one-bedroom/one bath apartment with no dedicated study space or private sleeping areas, according to Habitat NOVA. However, because of the family's commitment to work with Habitat NOVA and other volunteers as build participants and learn about finances, mortgages and maintenance, the family received an affordable mortgage and a new home. Last year, the family moved into their own four bedroom, two and a half bath home in Herndon complete with energy-saving mechanicals. Smoot said the family would only pay the principal on the mortgage. "Tomorrow is the first anniversary of owning our home. It is a big difference to own," said Sabore.
Hendon ReStore is located at 311 Spring Street, Herndon. For more information visit www.habitatnova.org/restore/restore-locations or call 571- 306-0908.