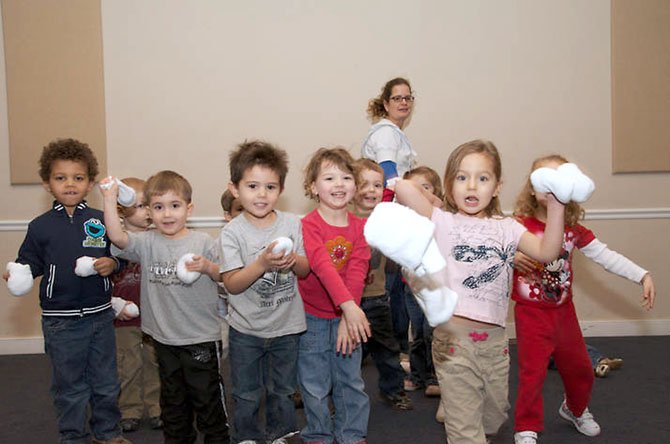 No snow? No problem. When a Burke preschool teacher saw how disappointed her students were by the lack of snow this winter, she came up with a creative way to give her children snowy fun, and give back to the community in the process.
"What do you do when there's no snow? Well, one idea is to roll up some white socks to create some snowballs," said Sherry Baker, director of Knollwood Community Preschool in Burke.
The ball got rolling when Knollwood families were asked to send in pocket change for The Lamb Center, a daytime drop-in center for the poor and homeless in Fairfax County. The donations totaled more than $280, which was used to purchase 400 pairs of white socks.
"One of my teachers came up with a fun way to enjoy our snowless winter and lend a helping hand," Baker said. Creative Movement teacher Anne Margaret Ashley decided to roll up dozens of socks to use during creative movement class, on rainy days for games, parachute play, and snowball tossing.
When the snowball fun winds down, Baker said the socks will be donated to The Lamb Center. "The staff and children of Knollwood, as well as 400 pairs of feet in the community thank the families of Knollwood," Baker said.