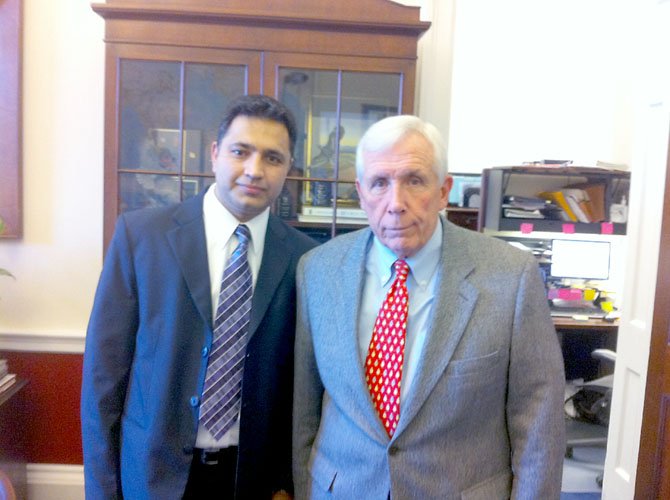 According to the 2000 U.S. Census, there are more than 9,400 Nepalese living in the U.S. Krishna Sharma of Springfield, founder and CEO of Vision for Nepal, hopes to reach many of these immigrants and others sympathetic to Nepal through his TV program, "American Conversations," which airs on Fairfax Public Access Channel 30 on Tuesdays at 10:30 p.m.
"The main purpose of our program is to facilitate a dialogue between Nepalese and Americans," said Sharma. "The next purpose is to inform the Nepali diaspora how America works and how issues of the diaspora can be addressed."
Sharma is himself a recent immigrant to the U.S., moving to the DC area in 2005. He believes that both Americans and Nepalese have much to profit from engaging with one another. American Conversations went on the air in January 2011 in an effort to start a dialogue between members of the Nepalese diaspora and other Americans.

"What I thought when Nepalese community in the U.S. started growing was that these immigrants should stay connected with Nepal and at the same time learn about American politics and policies. Also, I feel that a forum is needed to connect Americans who were in Nepal for Peace Corps or USAID or for tourism to Nepal," said Sharma.
In recent years, typically peaceful Nepal has seen a great deal of turmoil. Starting in 1996, Maoist insurgents started an uprising to topple the Nepalese monarchy and establish a People's Republic of Nepal. The civil war ended with a comprehensive peace accord signed in 2006, but not before 15,000 were killed and 150,000 displaced. This unrest led to a tremendous increase in Nepalese immigrants in the U.S. and elsewhere around the world. In the 1990 Census, only 2,600 Nepalese were living in the U.S.; within a 10 year period that number had nearly quadrupled. Immigration figures from before the Nepalese civil war showed that on average 100 Nepalese were immigrating to the U.S. per year. During the Nepali civil war, nearly six times that number immigrated to the U.S. every year. In addition, the conflict and ensuing economic turmoil forced many Nepalese to seek employment in Saudi Arabia, Qatar and Malaysia.
Many of the show's topics deal with Nepal's unique geo-political situation and with its recent history. Nepal, although a small country, is wedged between two rising superpowers, India and China. In addition, turmoil in Pakistan and Afghanistan make Nepal's geographic location strategic. Also, Nepal's current civil war is very much in the forefront of any current discussion about Nepal.
The first show to air was an interview with Lisa Curtis, a senior research fellow with the Heritage Foundation. Recent volatility in South Asia, particularly in Pakistan, makes Nepal's geographic position and political situation strategic. Sharma was interested in talking with Curtis about Heritage Foundation's counter-terrorism research in South Asia.
Another show was with I. William Zartman, an emeritus professor at Johns Hopkins School of Advanced International Studies and specialist in the field of negotiation theory. Sharma was interested in Zartman's work with the Northern Ireland crisis of the 1970s and '80s. There are many parallels between Ireland and Nepal. Both countries are working to unite former warring groups into a new peaceful, although fragile, framework. Sharma was interested in Zartman's work to develop a long-lasting peace through negotiations.
Sharma also has interviewed Assistant Secretary of State Robert Blake, who, on "American Conversations," refuted a claim made at the South Asian Summit that Maoists insurgents were removed from the U.S.'s terrorist watch list.
"American Conversations" is part one of a three part plan for Vision for Nepal. In the coming month, Sharma plans to travel to Nepal to work with a TV station in Kathmandu to air "American Conversations" there. Already, however, thanks to Internet viewing capabilities Nepalese around the world can view "American Conversations" on Vision for Nepal's website as soon as they are uploaded. Sharma's hope is that through these programs, Americans and Nepali people can come together to brainstorm about issues of importance. The third phase of Sharma's plan is contingent on additional funding; however, he hopes to facilitate learning opportunities for Nepalese in Nepal about good governance and civil society.
"This type of program is needed to address the diaspora and to bring about positive change," said Sharma.
American Conversations can be seen on Channel 30 on Tuesdays at 10:30 p.m. Previously-aired shows and more information about the program can be found on Vision for Nepal's website: www.visionnepal.org.