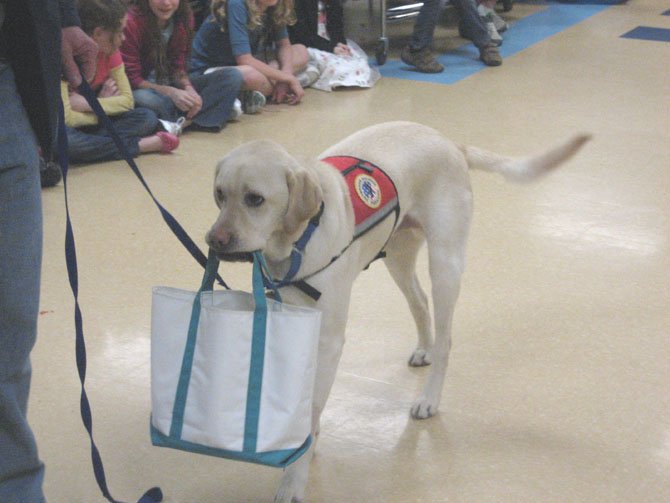 Every year, Great Falls Boy Scout troops gather for their Blue and Gold Dinner, a special awards ceremony accompanied by a potluck. Though this time, they had some very special, four-legged guests at the Great Falls Elementary.
Canine Companions for Independence (CCI), a nonprofit organization dedicated to the raising and training of service dogs for the handicapped, was represented in an interactive presentation at this year's dinner. Five dogs and their volunteer puppy raisers displayed a wide array of commands, covering everything from a basic "sit" to retrieving dropped keys and even flipping a light switch.
Dan Craytor, a volunteer with CCI for the past two and a half years, became involved with the organization for two distinct reasons. "I wanted to give back, and to teach my son, John, to give back too," he said. "We had just lost our Labrador and my wife was in the library when she saw a CCI dog, so the cause was the perfect fit."
Craytor's dog, Spencer, was released from CCI but went on to become part of Veterans Moving Forward in order to keep working. The team does a lot of presentations, and utilizes Spencer's advanced commands to show the public how these dogs help people.
The presentation explained the process of volunteering, describing how puppy raisers receive a dog from CCI for around 18 months, and then return them for nine months of advanced training. Afterwards, the dog is placed with a person with a disability, most often a mobility or hearing impairment. The presentation also emphasized the differences between many types of working dogs, as well as the tasks and duties each dogs performs.
"I loved watching the dogs do all their tricks," said Scott Bynum, a 9-year-old Webelo 1 scout. "I also got to learn about different kinds of dogs, like service and seeing-eye." Another scout, Aiden Curran chimed in, saying that he "learned that some dogs could not be pets, and I loved when Spencer turned off the lights!"
According to Bruce O'Cain, the Master of Ceremonies for the event and a den leader, the Blue and Gold Dinner – named after the Boy Scouts' colors – occurs "around the time most boys get their badges" or move up from Tigers to Wolves to Bobcats, Bears and Webelos, which stands for "we'll be loyal scouts."
After the awards ceremony and the presentation, the children were able to meet the four-legged stars. "My favorite part was the ending when I got to meet Spencer!" exclaimed 7-year-old Tiger Scout Leyton Allen.
"That was the best presentation we've had in at least five years," said O'Cain, gesturing to the handlers and their dogs. The group was met with a round of applause and handed out pamphlets in hope of inspiring future volunteers.