Among the Connection's many excellent carriers, the two young people are honored for their service, reliability and dedication as 2011 Fairfax Connection Carriers of the Year.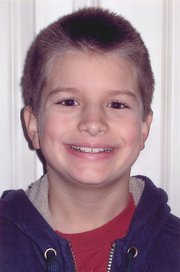 Wilson Friestad may have just recently made a drastic switch to a buzz cut, but the new haircut didn't change his outstanding customer service on his Connection route. The Laurel Ridge Elementary School sixth grader has delivered 197 papers for the past two years and has never had a complaint. Wilson enjoys geo cashing (treasure hunts using a handheld GPS) and cheers for the Atlanta Falcons during the football season. When he's not playing flag football, basketball, or swimming for the George Mason Makos, he's hanging out with friends or his beagle, Woody. He saves most of his paychecks to use to buy special gifts for his family and friends.
Megan Prosser is an honor roll seventh grader at Robinson Secondary School who loves craft projects and her Home Economics class. She enjoys swimming, lacrosse, and skiing, and eventually hopes to work with animals. This ambition may have been fueled when she got Earl, a Labrador mix dog, on New Year's Eve. In her three years as a carrier, she has an excellent reputation in managing her route, both with her customers and her route manager. Her paycheck comes in handy since she likes shopping, but she does allocate half of it each month to pay for her cell phone.
Friestad and Prosser will enjoy the following rewards: two Popeye's meal coupons, two University Mall Theatre passes, and a $10 paycheck bonus.