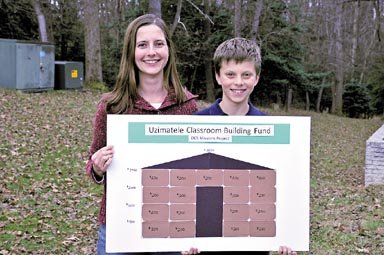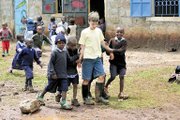 Vienna — Dominion Christian School, a private school in Oakton, raised $3,500 to support the addition of a classroom to a school in the Gitaumba slum outside Nairobi, Kenya. Dominion Christian School student, 10-year-old Sebastian Whittle with his mom Laura, spearheaded the mission project and traveled to Nairobi in November to deliver the funds raised and supplies collected.
Interest in Uzimatele Educational Centre began with the relocation of the Douw family to Nairobi last year. Prior to moving Jonathan Douw was a student at Dominion Christian School, and he and Sebastian were best friends. The friends and their families stayed in touch over the past year. The Douw family shared with the Whittle family information about the Uzimatele Educational Centre, which is located in the suburbs of Nairobi and provides educational opportunities for the displaced families living there.
According to Laura Whittle, Uzimatele Educational Centre began as a church in the 1990s. Around 2006, it expanded into a school program. At present it has three or four classrooms and provides instruction for about 75 students from ages 3 or 4 up to 10 years old. The funds raised by Dominion Christian School will go toward providing an additional classroom for the older students. In addition to educational opportunities the school is also a feeding center, providing hot meals to students enrolled in the school.
In a school newsletter, Laura described the school as a "cluster of rough stone buildings with no electricity or running water. Inside the small classrooms, the children sit on simple wooden benches with a wood plank on legs in front of them as a desk. The walls are bare except for a few homemade posters of alphabet letters and simple words."


THE DOMINION CHRISTIAN COMMUNITY began raising funds for this mission in October. On the last day of school before the Thanksgiving break, Sebastian's 4th grade class hosted a "Dress Down Day." With at least a $2 donation to the mission project, students did not have to wear their school uniforms to school that day. This activity raised $700 for the mission. A 6th grade class at the school hosted a bake sale and raised $200. Members of the school community donated the remainder of the funds.
"We set the bar high," said Marjorie Veiga, Dominion Christian School's committee chair for mission projects, in reference to the funds raised. "A lot of kids understand the need for space as we here on our campus have a need for space. The children were also very motivated to help after seeing pictures of the classrooms at Uzimatele. They couldn't believe that a school would have bare cinder block walls and boards for chalkboards. We are very blessed to have such a responsive community. It's just $3,500 to us, but it means the world to them."
Sebastian and Laura arrived in Nairobi the week before Thanksgiving with two suitcases full of classroom supplies. Upon receiving the supplies, the children at Uzimatele set to work immediately making Christmas cards.
"It is definitely a very poor area," said Laura. "I was impressed with how cheerful and how excited the children were about the pencils, rubber balls and balloons we had packed in little gift bags for them. They were so excited."
Sebastian agreed, saying how happy all the children were. Sebastian visited with the children in class and read Brown Bear by Eric Carle. A teacher translated the book into Kiswahili. Later on the playground, Laura said the children followed Sebastian around, with several children holding on to each arm.
"They are doing so much there with so little. They have no supplies, no books, no library. We take so much for granted here. We are very blessed," said Laura.


EACH YEAR Dominion Christian School is required to complete two mission projects. Typically, one project is local and one is international, said Veiga. For example, last year, said Veiga, the school provided goody bags to local children suffering from Lyme's disease and the school raised money to help renovate a Romanian orphanage. This year, the school hopes to sponsor four mission projects.