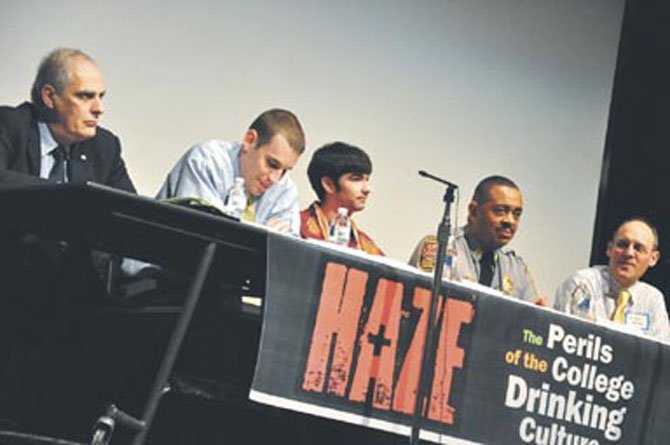 McLean — The Unified Prevention Coalition of Fairfax County and the McLean High School PTSA presented "Perils of the College Drinking Culture" Wednesday, Jan. 11. The program featured a panel of speakers who discussed the health and legal consequences of underage and binge drinking, as well as a short film.
The film told the story of Gordie Bailey, a freshman at the University of Colorado at Boulder, who died at a fraternity house of alcohol poisoning in 2004. It presented a real life case of an underage person who drank too much and wasn't given proper care while intoxicated.
"The photos of Gordie dead on the floor of that fraternity house, with the writing all over him and his face blue will haunt me for a while," said Marianne Marshall, a parent of a high-schooler and a college student who came to the presentation. "I couldn't stop picturing my kids in that same spot, and it really made me want to open up lines of communication with my kids when it comes to drinking."


DR. WILLIAM HAUDA, an emergency room physician at Inova Fairfax Hospital and one of the panel members, said the high school years are crucial when it comes to informing students.
"If you look at our eighth graders, the numbers are well below the national average, but our seniors are catching up to the national average," he said. "In college, 50 percent of students admit to binge drinking. So what's happening is, in high school, students are unlearning the results of using alcohol to excess."
Capt. Bruce Ferguson, commander of the Fairfax County Police Youth Services Division and one of the panelists, said the underage drinking problem has gotten worse in recent years.
"Things have gotten worse because access has gotten easier. Our attitude about alcohol has changed to make it something you have to do. You can't watch a sporting event without seeing a beer commercial that says if you drink this, you get the girl and the sports car," he said. "We need to change our attitude, through education, and change the culture of alcohol."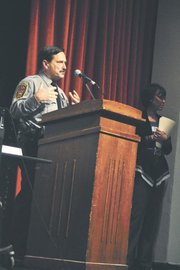 Col. David Rohrer, Fairfax County Chief of Police, was at the event, and he remembered his days as a patrol officer finding alcohol around schools and county parks.
"The issue's been here for a long time. The reality is that too many people think of alcohol as a way to stimulate fun, but it also leads to a lot of consequences," he said. "We've all had to go make death notifications for someone killed in an accident involving alcohol or involving alcohol abuse, the list of consequences is long: fights, assaults, unwanted sex. As adults and as a society we simply need to stop condoning and tolerating alcohol abuse."


THE EVENT was attended by more than 200 people. Becky York of the Unified Prevention Coalition, said that their surveys showed most parents came from the McLean High community, but parents from Langley, James Madison, Thomas Jefferson and W.T. Woodson high schools, as well as middle school parents and parents from Arlington County attended.
The coalition's mission is to prevent violence, drug and alcohol use by youth in the county. The next forum will be held Wednesday, March 28 at 7 p.m. at Mount Vernon High School in Alexandria. More information is available at www.unifiedpreventioncoalition.org.