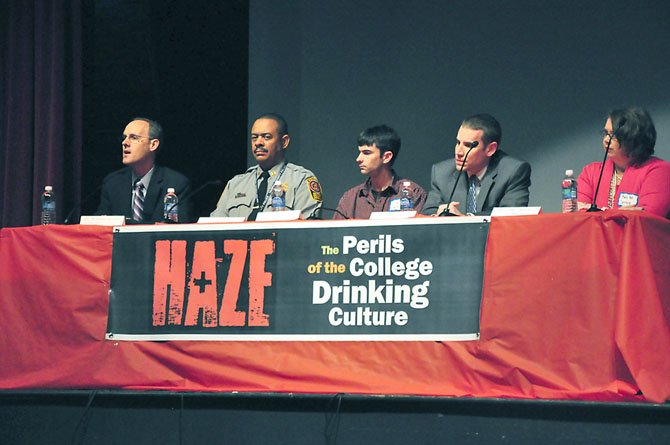 Herndon — Herndon High School hosted "The Perils of the College Drinking Culture" Tuesday, April 24, a forum discussing the consequences of alcohol use with students and parents in the community. The event, hosted by the Unified Prevention Coalition of Fairfax County, featured facts about the social, legal and physical consequences of alcohol use.
Sara Freund, program director of the UPC, called it a "signature program" and said the feedback from previous showings has been positive.
"The program tonight has been shown nine times since 2010 and has been a program that schools and parents around the county have said 'every senior and senior parent' should come and hear the message," she said.
Herndon High Principal William Bates said he hoped presentations like this would impact the youth in the audience, to make them think twice about making a poor decision.
"We know a conversations such as this, about alcohol and some other difficult subjects, are ones we have to have, and what we're hoping is that we can continue to communicate the message, to young people, about the importance of listening to what parents say," he said. "If you talk to anyone in this auditorium, you'll find someone who has been impacted by a poor choice that a young person made."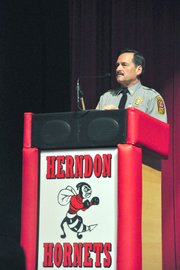 COL. DAVID ROHRER, chief of the Fairfax County Police Department, said in his 32 years as a police officer, he has seen plenty of those consequences.
"We have seen far too many cases where young people are hurt by the use and abuse of alcohol. I could write a litany of cases, whether it's accidents, fatal crashes, poor judgement when someone is harmed, assaults, fights, sexual assaults or unwanted sex," he said. "We have to have a cultural change… it's been too long that we condone the abuse and over abuse of alcohol, and that's what has to change."
The presentation began with a film about Gordie Bailey, a freshman at the University of Colorado when he died in 2004 of alcohol poisoning. In addition to Bailey's story, it talks about the growing number of college students who are binge drinking.
"It was terrifying when they kept showing these clips of college students laughing about how they drank 23 shots that night, or one where the boy drank about 10 shots in less than 15 seconds," said Eileen Pallara, a mother of two Loudoun County Public Schools students. "When you see the casual attitude and the staggering amount consumed, it's a wonder we don't read about this on a daily basis."
Ryan Smith, a graduate student at Virginia Tech studying alcohol use, has been a member of several UPC panel discussions, and said the video about Bailey's death hits him each time.
"Every time I watch that video it strikes me a different way," he said. "The worst part is, we lose 1,800 students a year because of alcohol, which mean we could have 1,800 videos just like that, 1,800 groups of people that feel that pain and loss."
Dr. William Hauda, an emergency physician at INOVA Fairfax Hospital and medical examiner for the county, said that the attitudes students have toward drinking in the film are becoming all too common.
"We've seen a pattern change where a lot of young people used to just drink alcohol, now they're drinking with the real intent of getting as intoxicated as they can as quickly as they can," he said. "Across Fairfax County, about 20 to 25 percent of high school students participated in binge drinking over the past 30 days."
Mary Ann Sprouse, director of Alcohol, Drug and Health Education at George Mason University, says she thinks youth are becoming more aware of the consequences of drinking and driving, but it may not be enough.
"If you get into a car when you've had something to drink, or with somebody who has been drinking is not a good idea, but beyond that, that's the only risk they think they're taking, that if somebody is going to be a designated driver, then they can drink as much as they want," she said. "But 50 percent of kids who are injured or killed under the influence of alcohol aren't in a car. It's rapes, fights, falls, robberies."
Capt. Bruce Ferguson, commander of the Fairfax County Youth Services Division, cautioned against the trend of parents allowing teens to drink at home, considering them safer than on the road.
"You're not teaching them to drink responsibly, you're just teaching them to drink," he said.
ACCORDING TO EXIT SURVEYS for the event, families from Herndon, McLean, Langley, James Madison, Oakton and Chantilly High Schools were in attendance. More information on the UPC can be found at www.unifiedpreventioncoalition.org.