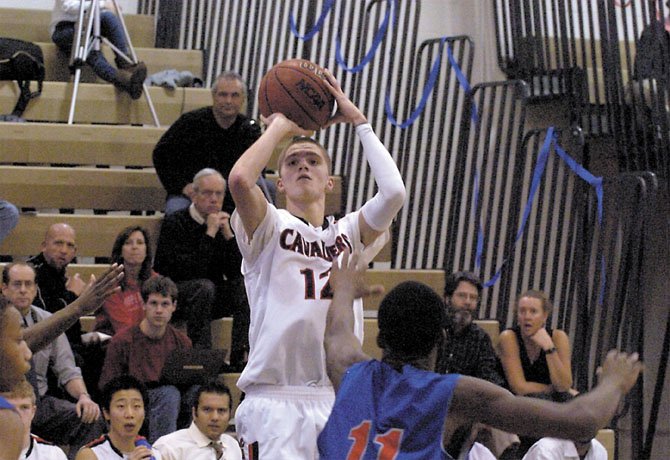 Fairfax Station — The South County Secondary boys' basketball team continued its impressive play of late with a 72-54 Patriot District home win over West Potomac this past Tuesday night, Jan. 24. The win was the fourth for the Stallions in their last five games and improved their record to 11-7 overall and 6-4 in district play.
South County, in the win over the Wolverines (11-5, 5-4), trailed 18-13 after one quarter but outscored its opponent 41-18 combined over the second and third quarters to gain control of the game. The Stallions received a good balanced scoring attack with both Oren Burks, a junior forward, and senior post player Marqueice Johnson scoring 15 points, Justin Hampton, a junior guard/forward, was also in double digits with 14 points, and guards Montez Bonner and Andrew Rector both scored eight points.
The game before, South County won at district opponent Lee High (Springfield), 59-41. But earlier last week, the Stallions lost a close contest versus visiting district opponent Woodson, 57-54, on Jan. 17. Johnson, Burks, and Hampton scored 16, 13, and 11 points, respectively, in that game. Bonner contributed six points. For the strong Woodson team (14-3, 8-1), Alfred Carr scored 18 points and Tomas Stepka netted 13. Brandon Stepka added seven points and Eric Bowles six for the Cavaliers.
South County, at 6-4 in district play, is currently in the middle of the district standings. The Stallions' district wins have come over Lee and West Potomac twice each, T.C. Williams once, and Annandale. The setbacks have come to T.C. (in the first meeting between the two teams), West Springfield, Lake Braddock, and Woodson.
"We feel like we have had some good wins and some disappointing loses," said South County head coach Wendell Johnson. "However, we can possibly move up [in the standings] before the [postseason district] tournament. We were very happy after beating T.C. Our guys played very well and finished strong against them. They have been the team to beat in the district and they get every team's best effort each night."
THE WIN OVER THE TITANS, a 52-42 home victory for the Stallions, came on Jan. 10. T.C. Williams, which defeated South County earlier in the season, 55-43, on Dec. 10 in Alexandria, has been a Northern Region and Patriot District powerhouse over the past several seasons. This year, the Titans have struggled at 8-8.
In the Stallions' 10-point win over T.C. earlier this month, South County trailed 18-17 in a low scoring first half before outscoring the guests 33-24 in the second half to gain the win. Hampton led the Stallions with 16 points and Bonner tallied 15. Also for South County, senior guard Lance Robinson scored 10 points.
Hampton, a good three-point shooting threat, is leading South County with 11 points per game, and Johnson is averaging nine points and 11 rebounds. Burks is a strong rebounder for the Stallions, and guards Bonner and Robinson have been doing a great job distributing the ball. Rodie Lamb, a senior guard/forward, is the team's defensive stopper.
"He guards the other team's best player each night and does a great job with it," said coach Johnson.
South County will play a district home game against West Springfield this Friday night at 7:30. In the two teams' first meeting on Jan. 3, the Spartans, playing on their home court, edged South County, 47-45. West Springfield's top scorers in that low-scoring contest were Collin Mosley (10 points), Matt Ahola (9), and Sam Halle (8).