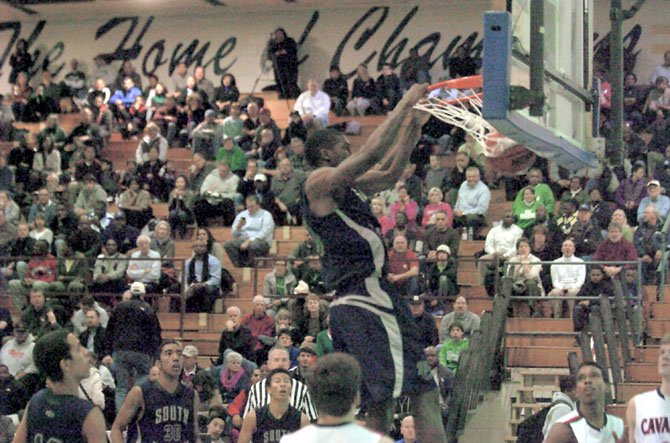 The South County boys' basketball team went 3-11 during Patriot District competition and entered the district tournament as the No. 7 seed.
That's when the Stallions started to play their best basketball.
According to head coach Wendell Johnson, South County started sharing the ball on offense and improved its half-court defense. The result was a postseason run that fell one victory short of a state tournament berth.
South County lost to Woodson 67-49 in the Northern Region tournament semifinals on Feb. 22 at Robinson Secondary School. A jumper by Nathan Williams gave the Stallions an 11-10 lead in the first quarter, but Woodson pulled away from that point, closing the opening period on a 12-2 run. A 3-pointer by Tommy Stepka gave the Cavaliers a 25-13 advantage early in the second quarter and Woodson led by double digits for the remainder of the contest.
Senior guard Justin Hampton led South County with 15 points and senior forward Oren Burks had 14.
The Stallions closed the regular season with a 7-15 record. South County then defeated No. 2 West Potomac and No. 4 T.C. Williams to reach the Patriot District tournament championship game, where the Stallions lost to Lake Braddock. South County bounced back with regional tournament victories against Mount Vernon and Chantilly before losing to Woodson and finishing 11-17.
"Everybody on this team, when it comes down to it," Hampton said, "was 100 percent committed to each other and to winning."