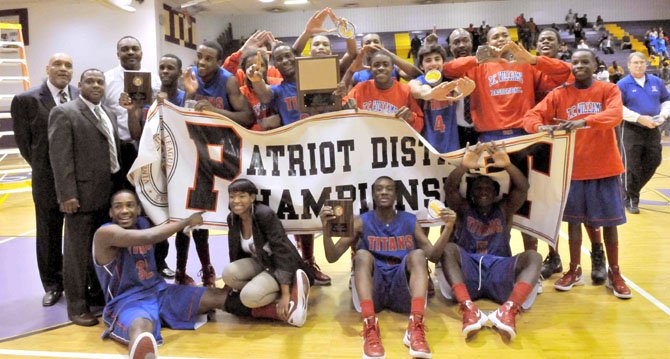 Burke — T.C. Williams point guard Daquan Kerman climbed a ladder and started to take part in the celebratory ritual of post-championship net cutting after the Patriot District boys' basketball final on Feb. 17. While the senior prepared to remove a piece of commemorative twine from a basket at Lake Braddock Secondary School, his Titan teammates gave the floor general a hard time about his past struggles with scissors.
"When we won the district championship when I was in ninth grade, I didn't know how to use the scissors on the net," Kerman said. "So they always tease me."
While Kerman might struggle with the celebration part, the four-year varsity veteran showed he can handle leading a team to victory on a championship stage.
Kerman scored a team-high 13 points and led a stingy Titans defensive effort as T.C. Williams defeated South County 54-39 to capture its second consecutive district title and the program's sixth in seven seasons.
T.C. Williams, winners of four of the last five Northern Region titles and the 2008 state championship, experienced a sub-par regular season by its standards, entering the postseason as the No. 4 seed in the Patriot District with a 14-9 record. The Titans lost two home games to Northern Region opponents and suffered a four-game losing streak in January. Regardless, TC regrouped in time for the district tournament, knocking off West Potomac in the first round and edging top-seed Woodson in the semifinals. Against South County in the championship game, the Titans held the Stallions to their lowest offensive output of the season.
"It means a lot because everybody doubted us. You see everybody here now, but they weren't here when we were losing. We came together as a team. We were all we had."

— T.C. Williams senior Daquan Kerman
"It means a lot because everybody doubted us," Kerman said. "You see everybody here now, but they weren't here when we were losing. We came together as a team. We were all we had. We just bonded. We had our mind set on the district championship."
Kerman is the Titans' primary ball-handler, but rarely does No. 1 look to score. On this night, Kerman picked his spots to be aggressive and finished with a team-high 13 points. He scored on a drive to the basket late in the second quarter to give TC a 26-17 halftime lead,
part of an 11-3 run to close the half. In the third quarter, Kerman came up with a steal and drove coast-to-coast for a layup.
"I look to score when I need to," Kerman said. "I like to get my teammates [involved], but I know when I need to score and get a run going."
TC head coach Julian King said Kerman played like a veteran leader.
"He definitely played with a lot of energy, but more importantly, he played with a lot of poise," King said. "He ran the show, he took leadership [and] he did exactly what a fourth-year player is supposed to do."
Senior forward T.J. Huggins scored 11 points for TC and senior guard Jordan Byrd added 10. Junior guard Dealo Robertson came off the bench to score nine points.
"[Robertson is] a sparkplug off the bench for us," King said. "Some nights he doesn't score, but his energy level is off the charts."
Defensively, TC forced 17 turnovers and limited South County to just one double-digit scorer — first-team all-district forward Marqueice Johnson with 11.
"TC, they're a heck of a team. They did things differently than they did the first few times we played them," said South County head coach Wendell Johnson, whose Stallions split their two regular-season meetings with TC. "They controlled the pace of the game and we really couldn't get it back."
TC defeated Thomas Jefferson 56-40 on Feb. 20 in the opening round of the Northern Region tournament, giving the Titans 10 wins in their last 11 games. TC ended its season with a loss to Westfield in the quarterfinals on Feb. 22.