Fairfax County's annual "Stuff the Bus" campaign is off to a roaring start. More than 4,000 pounds of food and more than $1,000 have been donated at the first three events held last Saturday, Jan. 21.
The campaign, now in its second year, is a partnership between Neighborhood and Community Services, the Office of Public Private Partnerships (OP3), MV Transportation Inc., which operates the FASTRAN buses and provides volunteers, as well as local grocery store chains Giant and Shoppers Food Warehouse.
"In our first year, 2011, we collected more than 20,000 pounds of food valued at more than $34,000; the total value of the food, goods and services donated by all the public and private partners was valued at more than $56,000," said Patricia Stevens, executive director of OP3.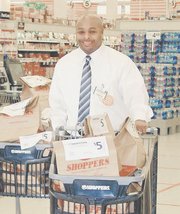 She said the "Stuff the Bus" campaign is intentionally scheduled between Martin Luther King Day (Day of Service) and Presidents' Day because that is when the food pantries report that traditional giving is at its lowest point.
The campaign continues this Saturday, Jan. 28 from 9:30 a.m. to 4:30 p.m. at the Fox Mill Giant in Herndon (2551 John Milton Drive), directly benefiting Helping Hungry Kids, and the Lorton Giant (8941 Ox Road), benefiting the Lorton Community Action Center. Donations of food, gift cards and money are being collected to help refill the coffers of local food banks, which feed families and individuals in need in the Fairfax community.
All donations will go directly to local nonprofit organizations that help feed needy families and individuals in the Fairfax-Falls Church Community. To find out when "Stuff the Bus" will be at a grocery store near you, visit www.fairfaxcountypartnerships.gov or call 703-222-9764.