Alexandria — When the West Potomac boys' basketball team missed the front end of a one-and-one with 17.5 seconds remaining, Lake Braddock had an opportunity to escape with a victory despite playing its "worst game possible."
But on a night when Lake Braddock squandered a fourth-quarter lead and committed 31 turnovers, the Bruins weren't going to catch a break.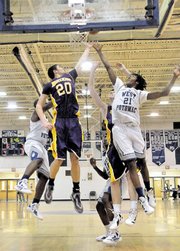 After the missed foul shot, 5-foot-9 Tamaric Wilson grabbed an offensive rebound for the Wolverines, drew a foul and knocked down a pair of free throws. Lake Braddock came up empty on its ensuing possession and suffered its first Patriot District defeat, 55-50, at West Potomac.
Lake Braddock led 48-47 when Brendan McHale scored in transition with 3:03 remaining in the fourth quarter. But West Potomac scored eight of the game's final 10 points to pull within one game of the Bruins in the Patriot District standings. Lake Braddock and Woodson are tied for first at 6-1 (the Bruins defeated the Cavaliers 68-52 on Jan. 3) and West Potomac is 5-2.
"We had 31 turnovers. We shouldn't win the game [playing] that way," Lake Braddock senior guard Dylan O'Connor said. "It was the worst game possible that we could have played. We didn't pass the ball well, we didn't make good decisions, but we'll get them next time."
Neither team led by more than six points throughout the contest. Lake Braddock led by as many as four in the fourth quarter, but West Potomac responded with a 7-0 run.
Christian McKenrick led the Bruins with 15 points. O'Connor and McHale each scored 10 points for Lake Braddock and Tyler Snow scored nine points and grabbed nine rebounds.
"They were the first-place team, we were third-place team, it was a Patriot District game [and] when we play Lake Braddock it always comes down to something like that," West Potomac head coach David Houston said. "They don't let you pull away. They're good. They're a good team. They have some solid shooters, solid players, they're big inside. I've got a lot of respect for their squad, but we persevered. I'm really proud of my guys. They didn't give up, they stuck to the plan and got through this game."
Bryant Fultz led West Potomac with 13 points. DeMornay Pierson-El finished with 12 points for the Wolverines and Randal Brobbey and Wilson each had 11.
"We needed to defend our home court," Houston said. "In the district, that's what it comes down to: you're going to have to defend. We had aspirations of being [No.] 1 in the district at the end of the year and we knew we couldn't go down three games to Lake Braddock, so this was an important win for us."
The Bruins had won eight of their previous nine and entered the contest on a five-game winning streak. They dropped to 10-4 overall with seven regular season games remaining.
"It was the worst game possible that we could have played. We didn't pass the ball well, we didn't make good decisions, but we'll get [West Potomac] next time."

--- Lake Braddock senior Dylan O'Connor
Lake Braddock will travel to play West Springfield at 5:45 p.m. on Friday, Jan. 20. The Bruins will host the Wolverines in the regular season finale on Feb. 10.
"That was the worst game possible, so if we only lost by a basket or two, we're still pretty happy," O'Connor said. "We're just trying to work forward and correct our mistakes and hopefully go undefeated the rest of the season."