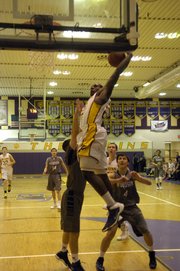 Lake Braddock boys' Basketball Coach Brian Metress stood down the hall from the Bruins' home locker room and praised Monday night's opponent.
"They're very good," Metress said about the Woodson Cavaliers. "They've beaten Robinson, they've beaten really good teams. I think they'll be there at the end. They're one of the top three teams in the region. We just want to be part of that.
"Woodson-Lake Braddock is becoming a big basketball game."
The Lake Braddock boys' basketball team defeated Woodson 56-50 on Jan. 27 at Lake Braddock Secondary School in the first of two regular-season meetings between what have become the top teams in the Patriot District/Conference 7. The Bruins improved to 10-3 while handing Woodson (13-4) its first conference loss of the season. Lake Braddock has dropped just one conference game — a controversial loss to Annandale on Jan. 10.
Woodson led 43-41 with six minutes remaining in the fourth quarter, but Lake Braddock took the lead for good with a 10-0 run, including three-pointers by freshman Corey Pelham and senior John Nice.
The Cavaliers pulled to within three with less than a minute remaining, but 6-foot-6 Lake Braddock sophomore James Butler grabbed an offensive rebound off a missed free throw and scored to extend the Bruins' lead to two possessions.
"It's one of those things where when the game is chaotic, certain guys can think, I might be able to get one here," Metress said about Butler's rebound and putback. "I think he was thinking all along, I might be able to get one of these. It was a big play."
Lake Braddock senior Will Gregorits led all scorers with 15 points. Junior forward A.J. Alexander and Nice each scored nine points for the Bruins.
"Woodson-Lake Braddock is becoming a big basketball game."

— Lake Braddock boys' Basketball Coach Brian Metress
Senior point guard Eric Bowles led Woodson with 13 points. Junior guard Jackson Boehman finished with eight, and senior forward Andy Stynchula and junior guard Trey Johnson each had seven.
Last season, Woodson beat Lake Braddock twice during the regular season and finished atop the district standings. The Bruins countered by beating the Cavaliers in the district tournament semifinals before capturing the program's first district title in a decade. Woodson went on to win the Northern Region title and advance to the state semifinals.
On Monday, Lake Braddock made more plays in the fourth quarter.
"It's always a big win," Alexander said of beating Woodson. "Last year, they beat us pretty good in the regular season, we came back and beat them in the Patriot District tournament. They're a great team. Everyone is talking about them every year. Bowles is a great point guard — much respect out to him, he kept them in the game. It's a fun game. It's good playing competitive teams that can score on us.
"It's fun beating teams by a lot, but always good to have a good crowd-pleaser."
Woodson closed the second quarter with a 10-0 run and led 36-32 at halftime, but failed to widen its lead beyond six points in the second half.
"We had a chance to take control … and it didn't happen," Woodson head coach Doug Craig said. "Give them credit. They made all the plays down the stretch and found a way to make enough plays to win the game. We had some opportunities and we didn't convert."
The Cavaliers and Bruins are scheduled to meet again on Feb. 4 at Woodson High School. However, a water pipe recently burst in the Woodson gym, leaving the facility unplayable. If the floor is not fixed in time, the game will likely be played at Lake Braddock or another facility.
While the Bruins got the best of the Cavaliers on Monday, Metress said there is still more work to be done.
"We're under no illusions," he said, "that this automatically gives us any more victories."