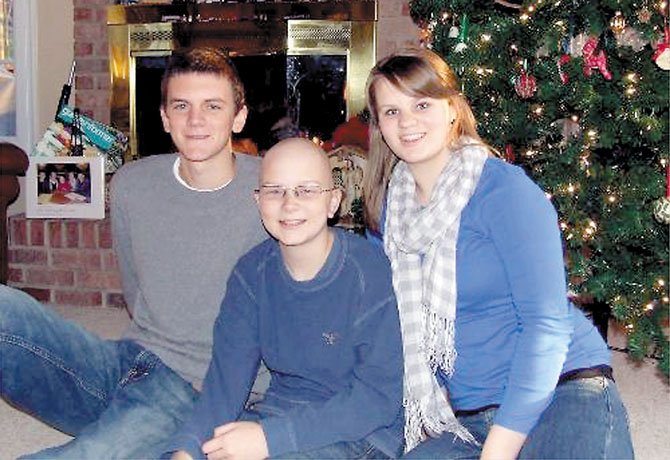 Lisa McCaffrey describes her son Andrew, 13, as "an active, social kid who enjoys movies, video and board games and just hanging out with his friends. He's a Boy Scout, likes being out and about and is very caring — he has a big heart."
The Liberty Middle seventh-grader also has bone cancer, which he's doing his best to fight, with the help of his doctors and the support of family and friends.
Andrew's brother and sister, Michael and Sara, attend Centreville High, and they and their parents, Lisa and Todd McCaffrey, live in the Marleigh community, off Compton Road. Todd's an Army colonel now stationed at the Pentagon; but before moving here, the family lived on Oahu, Hawaii.
While there, Andrew participated in nearly every outdoor sport and activity possible. But in February 2010, he was in the middle of basketball season when his right knee began hurting and wouldn't stop. Believing he had a sports-related injury, his parents took him to the doctor, who x-rayed the area.
But the x-ray revealed a 4-inch tumor just above his knee. After more scans, an MRI and a biopsy, doctors confirmed that Andrew had osteogenic sarcoma, a relatively rare form of bone cancer usually affects youth between ages 10-20.
"We were pretty terrified," said his mom, Lisa McCaffrey. "We weren't sure where to go or what to do. About 900 kids across the U.S. are diagnosed with it. Hawaii maybe gets one kid a year, so there weren't many specialists there comfortable with doing Andrew's surgery."
He was referred to Seattle Children's Hospital where he'd be taken care of by an experienced orthopedic oncologist. He then underwent 10 weeks of intensive chemotherapy to reduce or kill the tumor prior to surgery.
"From diagnosis to first chemo treatment was two weeks, so it didn't give him or our family a lot of time to digest it," said McCaffrey. "But Andrew's cancer had a protocol that doctors could follow, and the prognosis was good. They said it was treatable."
In May 2010, doctors performed an allograft, removing some 6 inches of his femur (thigh bone) and replacing it with cadaver bone. They said he'd regain all his basic mobility but, for someone as active as Andrew, it was tough.
"He's very athletic, and it meant no more contact sports or running, so it was hard for him," said his mom. "He played football, basketball, soccer and baseball, and he'd run track in elementary school. So it's sometimes still difficult for him to see his friends playing a sport he used to play."
When the family returned to Hawaii, Andrew completed another 16 weeks of chemo, losing nearly 25 pounds in the process. "Finally, in late October 2010, Andrew was declared cancer-free and life began to move on," said McCaffrey. "Unfortunately, over time, the graft began to fail and we returned to Seattle twice for revision surgeries. The latest one placed a titanium rod through the femur to stabilize the graft."
When Andrew's dad received orders to the Pentagon, the family moved to Northern Virginia in January 2011. Andrew got settled into a new school, made new friends and was getting healthier by the month. Then his cancer intervened again.
On Aug. 23, 2011, a routine scan found two spots in his lungs. The following month, he had the first of two chest surgeries to remove the tumors. He now undergoes chemo at Walter Reed National Military Medical Center, one week a month, and will through May or June.
Through it all, Andrew's kept up with his school work. And when he's in the hospital — as he is this week — he plays with his Xbox for entertainment. Therapists also help him strengthen his legs at the inpatient gym.
"He's still in physical therapy and can't walk unassisted," said McCaffrey. "He also has aqua therapy, two or three times a week, and we're thinking of him trying swimming once his endurance is better."
Andrew's 10 surgeries, plus months and months of chemo have made the past two years "the most challenging any kid could face," said his mom. "But despite setbacks, he's optimistic, smart and faithful to God for ultimate healing. He remains the amazing kid we knew before this disease and has, in many ways, become even stronger as a result of having cancer."