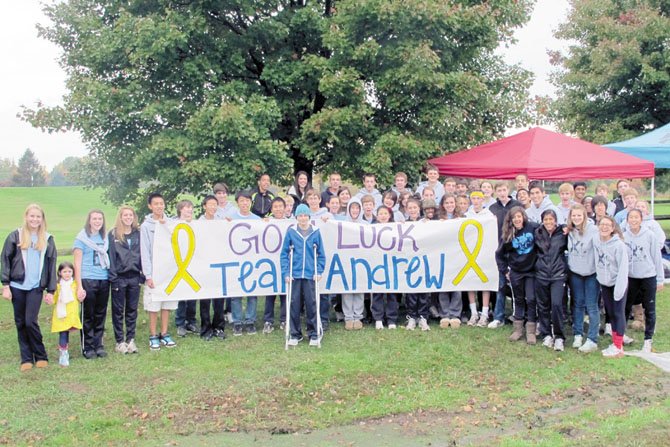 The McCaffreys have only lived in the Centreville/Clifton area for a year, but the local community has already embraced this family with both arms. And on Friday, Feb. 3, three schools are holding PJammin Day in honor of 13-year-old Andrew McCaffrey, who's currently battling bone cancer.
Students at Centreville High, Liberty Middle and Centreville Elementary can wear their pajamas to school that day, as long as they bring $1 with them. All the money will be collected during lunchtime and contributed to the American Childhood Cancer Organization (ACCO), formerly known as Candlelighters Childhood Cancer Foundation, for research.
Andrew's a seventh-grader at Liberty, and his good friend and classmate Shannon Lyons organized the event. "I just want to earn some money for ACCO and to have people have an awareness of childhood cancer," she said.
"I've known Andrew since he moved here last January, and he's funny and fun to be around," said Shannon. "When me and my friend Bailey visit him in the hospital, we have Silly String fights."
Feb. 3 is World Cancer Day, and Shannon got the idea for the fund-raiser when she saw PJammin for Kids with Cancer, www.pjammin.org/, referenced on the ACCO Web site. She asked her own school to participate and then asked Centreville Elementary "because I used to go there and my mom still helps out there," she said. "Then I got Centreville High School because of Ms. Devlin."
Kelley Devlin is a Centreville High counselor, as well as the Wildcat cross country coach. Andrew's brother Michael, a senior, runs both cross country and track; his sister Sara, a junior, manages the cross-country team. During the season, the school's cross-country program was called Team Andrew, in support of him and his family.
In December, the Indoor Track and Field team sold CVHS Distance/Team Andrew shirts and gave part of the proceeds to the charity, CureSearch (www.curesearch.org). And on Feb. 3, cross country and track team members will wear their yellow, Team Andrew wristbands.
After taking the fund-raiser proposal to all three schools, said Shannon, "They asked the principals, who asked the county [FCPS] who said, 'Yes.' At my school, we'll collect the money at lunchtime, and my Girl Scout troop, 1840, will help."
Devlin's also excited about the event and is "thrilled" that Centreville High Principal Mike Campbell gave it the go-ahead. She said the students will love wearing their pajamas to school while honoring Andrew and raising money for such an important cause. The SGA, headed by advisor Demby Banbury, is helping publicize the event with students and teachers.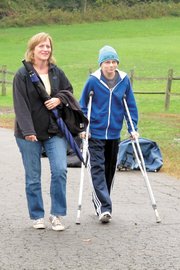 "The McCaffreys are an incredible family, and our team adores Sara and Michael," said Devlin. "We're inspired daily by Andrew's strength and resilience in this fight against cancer."
Andrew's mom, Lisa McCaffrey, called the "fabulous support" from Devlin "very heartwarming." Noting that gold is the color representing osteosarcoma, McCaffrey said that, at the start of the 2011 cross-country season, Devlin asked her if the team members could wear yellow ribbons on their uniforms for Andrew.
"It was overwhelming," said McCaffrey. "All the kids rallied around him and supported him. It was amazing knowing my other kids were being supported so well, too. Michael was new to the team, but they opened their arms to us, and it was great to be a part of that family. They even shouted, "Team Andrew," before a meet.
Regarding PJammin, she said it's a terrific idea. "Andrew doesn't like a lot of attention, but he agreed to this," said McCaffrey. "It's such a great cause, and Shannon's been a real go-getter. Andrew joined her and other middle-school students and Girl Scouts, last weekend, and helped them make posters advertising it."
Pleased, McCaffrey said it was "neat to see them all interacting together and to know this event will raise money for childhood-cancer research. Shannon's a fabulous girl, and it's great that she ran with this idea. She's gone to great lengths to help her friend, and it just shows the caliber of kids that are out there. Hopefully, Andrew will be in school that day and will get to participate in PJammin Day."
All in all, McCaffrey's thankful that Andrew met such nice people here, willing to go the extra mile for a buddy. "Starting at a new school in January 2011 could have been really tough, but he adjusted well and made friends," she said. "And they've been wonderful about visiting him in the hospital and involving him in whatever's going on at school. They accept him for who he is and treat him like nothing's wrong."