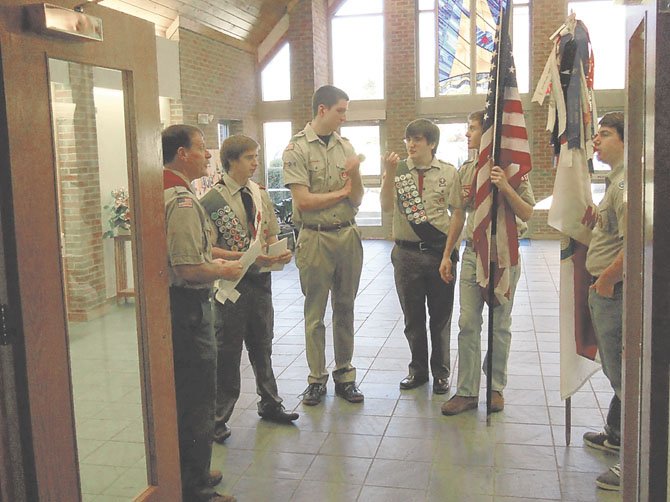 McLean — Years of hard work paid off for three McLean Boy Scouts who were awarded their Eagle Scout rank last weekend. The boys, all seniors at Langley High School, are members of Boy Scout Troop 869 of Trinity United Methodist Church.
Gus Newton, Braeden Sebastian, and Nate Webber were presented with an Eagle Scout medal and badge by their Scoutmaster, Tom Kiess and Troop Committee Chairman Jon Etherton. Nearly 30 friends and family members were also present at the Court of Honor ceremony, which was held at St. Thomas Episcopal Church on Sunday afternoon.
While it is widely understood that earning an Eagle Scout rank is a remarkable achievement, many do not realize how much work is required to earn the award. Years of badge work and leadership responsibilities must be completed before the scout can start work on his final Eagle project.
Joe Gibson, former Scoutmaster, and Eagle Scout Advisor to Boy Scout Troop 869 explained that only two percent of all Boy Scouts earn the Eagle Scout rank. "Earning the Eagle rank is one of the few things a boy can do before the age of 18 that is widely recognized as a major achievement. Earning the rank of Eagle is hard. It is not easy. That's why we do it," he said.


BEFORE BEGINNING the final Eagle project, the scout must accumulate 21 merit badges. "These merit badges give the boys life skills," said Gibson. "By that I mean skills that will last a lifetime; and skills that will equip him to save his own life or the life of another." The scout must also serve for at least six months in a leadership position for his troop, and he must plan, manage, and complete a significant final project that benefits the greater community. After what typically takes years to complete, the scout appears before a board of review comprising three to five adults to discuss his scouting career in detail.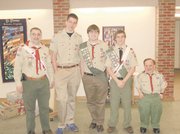 For his Eagle Scout project, Gus Newton planned and constructed a monarch butterfly garden at Churchill Road Elementary School. Gus gathered and managed a large number of volunteers for his project. The school has incorporated his garden into the second grade science curriculum. In his remarks during the ceremony, Gus spoke of his pride for overcoming "one of the greatest challenges in my life. It was a hard journey," he said. And, he added, "Scouting is the best thing that I feel a young man can do…It changes you into a man." Gus will attend Christopher Newport University in the fall, and has been accepted into the Presidential Leadership Program.
Braeden Sebastian worked with the Northern Virginia Soil and Water Conservation Agency and marked a number of local storm drains in order to remind neighbors of what they can do to help keep the Potomac River and Chesapeake Bay clean. Braeden said that the most challenging part of his project was the bureaucracy. The project required a large amount of paperwork, and working with neighborhoods to mark the storm drains. "I got my first taste of true leadership through organizing my own service project," Braeden said. He also said that he made lifelong friends through scouting. Braeden will be attending Virginia Tech in the fall.
Nate Webber restored and improved two trails at Great Falls National Park for his Eagle Scout project. In his remarks, Nate spoke of his grandfather, who always shared his stories of scouting and encouraged Nate to pursue his Eagle Scout award. His grandfather has since passed away, and Nate dedicated his scouting achievements to his grandfather. Nate is planning to attend college, but has not decided where yet. He is considering offers from two colleges.


IN CLOSING, Scoutmaster Tom Kiess reminded the boys that as they enter the next chapter of their lives, they will be held to a higher standard because they are Eagle Scouts. He also invited guests to take a look at letters that the three boys received upon earning their Eagle Scout awards. The congratulatory letters were from the President, Vice President, Admiral of the Coast Guard, the Pope, and a member of the House of Representatives and Senate, and were on display at a reception which followed the ceremony.