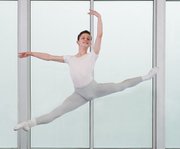 The Washington Ballet (TWB) announced that dancer, Brooklyn Mack, won a Gold medal at the 2nd Annual Boston International Ballet Competition (BIBC) in Boston, Mass., on Sunday, June 17. The Washington School of Ballet (TWSB) student, Albert Gordon of McLean, also won a Gold medal at BIBC.
The Ballet's dancers competed against a field of 90 dancers from 16 countries.
Gordon competed as a soloist dancing two classical solos in the first round, the compulsory contemporary in the second round and two classical solos and one contemporary solo in the final round. Gordon won the Gold medal in the Junior Male Division, and was awarded a contract with the Boston Ballet II for the 2012-2013 season. Gordon has chosen to stay at TWSB until he finishes high school next spring.
"I am very proud of our dancers at The Washington Ballet," said Kee Juan Han, TWSB's Director. "It was a grueling few days of competition. We had a Washington School of Ballet student, Albert Gordon, win gold along with our professional winner, Brooklyn Mack. It shows the quality of training at The Washington Ballet, especially in our Men's program."
The Boston International Ballet Competition (BIBC) was founded in 2011 by Valentina Kozlova to allow student and professional dancers ages 13 to 25 years an opportunity to perform and compete in a positive and encouraging atmosphere before a distinguished panel of international judges. BIBC awards professional contracts, scholarships, monetary and other special prizes to competitors.
Among the panel of judges at BIBC were Oleksi Bessmertni, Founder and Director of the International Dance Festival TANZOLYMP, Andris Liepa, famous Russian dancer and choreographer, Mikko Nissinen, Artistic Director of Boston Ballet and Boston Ballet School and Septime Webre, Artistic Director of The Washington Ballet.
Gordon began dancing at The Washington School of Ballet at age 10. Since 2006, he has been studying under the instruction of Kee Juan Han, Director of The Washington School of Ballet. Gordon has danced key roles with The Washington Ballet including the role of The Nutcracker Prince, in "The Nutcracker." Gordon won Senior Grand Prix at the regional YAGP competition in Torrington, CT in 2012 and was a finalist in YAGP in New York City in 2012.