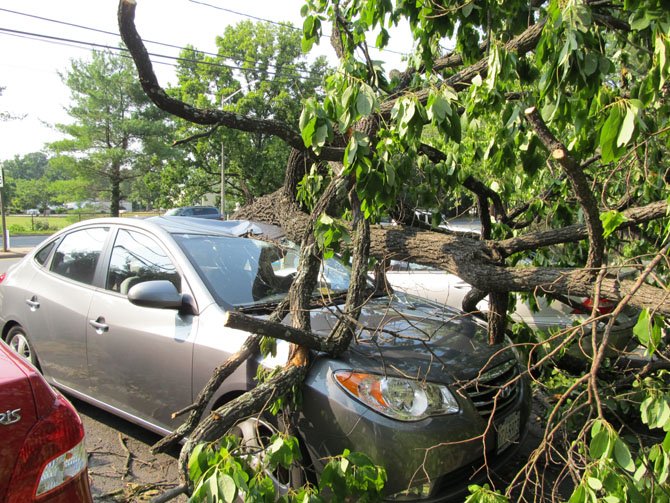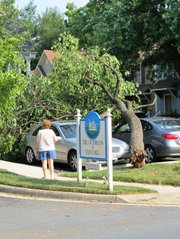 Updates from the Town of Vienna
*Storm Debris Collection
Residents are asked to take storm debris to the curb on their regular refuse collection day (in accordance with the new refuse collection program that goes into effect on Monday, July 2) to be collected by Town crews. Residents do not need to call the Department of Public Works to request a collection; simply place tree limbs and other storm generated debris to the curb for collection alongside your regular household trash and recycling materials. Trees and limbs should be less than six inches in diameter and less than eight feet in length. Do not clear brush near downed power lines as the brush may be energized. For more information, call the Department of Public Works at (703) 255-6380.
*Boil Water Advisory Remains in Effect
The Boil Water Advisory remains in effect for Town of Vienna water customers until at least Monday night, July 2. During this advisory period, the City of Falls Church Water Authority will perform tests to determine when the advisory can be lifted. In addition, the Town of Vienna will perform independent tests on water samples in its system. For more information, view the advisory area map prepared by Fairfax County at http://www.vienna...">www.viennava.gov/
*Vienna's 911 Remains Intermittent
Vienna's 911 Call Center phone lines remain intermittent and residents may not be able to complete calls to the Town's 911 center or to the non-emergency line. In emergencies, if you are unable to reach the 911 center, residents should visit the closest fire or police station. Crews are working to repair the lines as quickly as possible. For information on activities relating to the storm, visit http://www.vienna...">www.viennava.gov.
*Additional information is available on the Town's website at http://www.vienna...">www.viennava.gov. To keep up-to-date on Town activities, sign up for Vienna Community Alerts and follow the Town on Facebook and Twitter.
Town activities relating to the aftermath of the June 30 storm will be provided to the public through print, electronic and radio media, the Town's social media platform (http://www.facebo...">www.facebook.com/... and http://www.twitte...">www.twitter.com/T...), the Town's cable channel (Cox 27 and Verizon 38) and the Vienna Community Alert System available on the Town's website at http://www.vienna...">www.viennava.gov.
Downed trees and power lines kept crews working around the clock Sunday in Vienna and Oakton to restore electricity and clear roads of debris after a wave of violent storms barreled through the region Friday, June 29.
By Sunday, July 1, thousands of local residents were still without power, and Town of Vienna officials announced that Vienna Community Center will be open throughout the week for residents to cool off.
Several roads also remained closed due to downed power lines and trees, including:
*Ayr Hill between East Street and Beulah Road
*Frederick Street at Meadow Lane is closed
*Druid Hill Road at Beulah Road is closed
Officials also warned drivers on Sunday to avoid driving on parts of Moore Street, Orleans Circle and the 500 block of Mashie Drive because of low-hanging power lines.
Friday's storms struck with a swiftness and ferocity that surprised many local residents.
"I can't believe some of the damage," said Janice Dejard, who was taking photos of downed trees in her Oakton neighborhood on Saturday. "The storm caught us by surprise."
"It felt like I was in a horror movie," said Enisa Poskovic, 21, an au pair who lives in Vienna's Cedar Run neighborhood.
Poskovic said she was leaving the Vienna Metro Station around 10 p.m. on Friday when hail started pelting her car.
"I couldn't see, and then one tree almost fell on the car when I was driving down Hunter Mill Road," Poskovic said. "I just wanted to get home, because cars were swerving all over the road, trying to avoid the trees and branches that were coming down…It was crazy."
Steve Whittaker, a parent volunteer with Vienna Boy Scout Troop 13, said about 40 boys were settling down for their last night of camping along the Rappahannock River Friday when high winds and thunderstorms struck the campsite.
"Several of the boys didn't want to sleep in their tents because it was so hot," said Whittaker, who was with his 11-year-old son, Conrad, and other scouts from Oakton Elementary School. "They had moved their cots out of their tents when the wind and rain started. Of course they got drenched, but then the winds got under the tents, so tents were flying through the air and boys were all running around…It's pretty funny when I think about it now."
Whittaker said downed trees along Hunter Mill Road delayed the troops' homecoming on Saturday. "All the boys eventually made it home, but it was an adventure we didn't expect," he said.
Philip Anton said he and his family were in Wisconsin at a wedding when the storms hit his Hunter Mill Forest neighborhood, but he kept in touch with his neighbors by forwarding alerts from Fairfax County's Emergency Alert Network (CEAN), and other county emergency support networks.
"We have been 'watching' all this remotely from the email alerts and messages from the neighborhood group," Anton said on Sunday.
"It's amazing that the county alert systems and our own emails can keep us informed. When our government and commercial support systems go down, it's up to neighbors to help each other," Anton said.