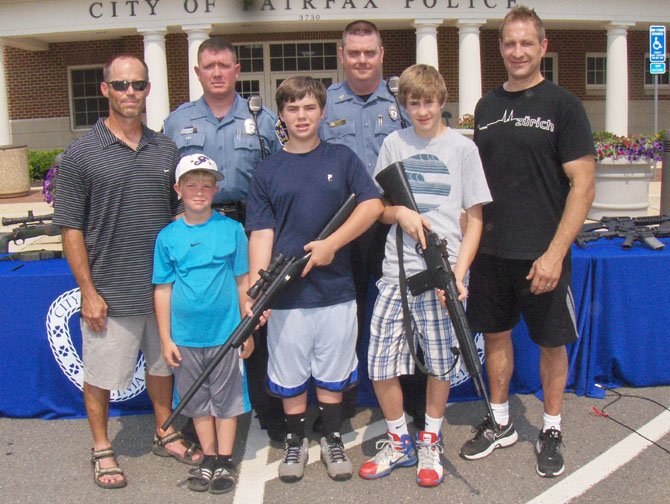 Centreville — It was shortly before midnight when City of Fairfax police rushed to an apartment complex after receiving a report of a man there carrying a gun. He'd already pointed his weapon at several people when officers confronted him, had him drop the gun and arrested him.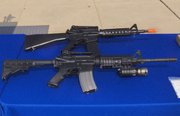 This incident happened awhile ago, and the weapon turned out to be a replica of a long-barreled, semiautomatic rifle. But the man had removed the orange tip identifying it as a fake so, at first glance, police had no idea it wasn't real. And had he pointed it at them, the incident could have ended in tragedy.
"In the past year across our region, police officers have responded to many 'person-with-a-gun' calls," said Col. Rick Rappoport, chief of the City of Fairfax Police Department. "Often, officers are confronted with real guns in situations that are truly life-threatening. In a relatively small number of cases — but with increasing frequency — officers are finding that children and young adults with replica weapons are the reason for the call."
So last Friday morning, June 29, his department hosted law-enforcement officers from throughout Northern Virginia at a special press conference to draw attention to the problems posed by realistic-looking, replica weapons. Displayed on a table was a large number of guns and rifles — and casual observers could not tell the real from the replicas.
Rappoport said children and young adults frequently use replica firearms in games. And law-enforcement officers in jurisdictions including Centreville, Chantilly and Clifton are especially concerned now that schools are out for the summer and children are engaging in more outdoor play.


"They're not firearms under the law," said Rappoport. "Neither are they harmless toys; they're capable of inflicting serious injury and causing serious damage to property. But the greatest risk occurs when others perceive them as real weapons and the person holding them as a real threat."
He said such situations have occurred throughout the region, sometimes with tragic results, because the replicas are indistinguishable from real firearms. So police want to educate children and parents, alert communities to this issue and "avert needless tragedies."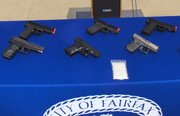 Officers responding to a weapons call aren't playing games; they're trained to consider every situation real. Further complicating things, said Rappoport, is the fact that "criminals sometimes use replica weapons and kids sometimes play with real guns."
Fairfax County Police Chief Dave Rohrer said criminals using replica guns cover up their orange tips. Conversely, added Rappoport, "Just because it has an orange tip doesn't mean it's not a real weapon."
This was important information for the Fairfax fathers and sons attending last week's press conference. The boys hadn't done anything wrong, but they regularly use replica weapons to play a popular game called Airsoft.
Dad Bill Wilkinson brought his son Brady, 14, who explained the game. "A couple guys on each team work together to eliminate the other people," he said. "You're using replica weapons that look like real guns like pistols and sniper rifles. We play in the woods or in our backyard."
A few months ago, said Wilkinson, "Some kids in the community had been seen carrying weapons, and citizens called the police — who gathered the names of local kids known to play Airsoft."
Next thing Wilkinson knew, a police sergeant was at his house, interviewing him, his wife and Brady. "We were quite surprised," said Wilkinson. "But he explained what was going on, and it brought home the dangers of using Airsoft weapons."
Brady said he understood why neighbors might be concerned because "I carry the guns bicycling to a friend's house or sticking out of my backpack. I'm now more careful carrying them around; I conceal them better."
Jordan Tomajko, also 14, brought his replica M14 rifle to Friday's event. "We play Airsoft in our backyards," he said. "The weapons fire plastic BBs that sting, but we're always careful about how we use them."
His father, Stan Tomajko, came because, he said, "It's important for me to be educated on what police perceive is the real thing. I wanted my son to learn that as well."