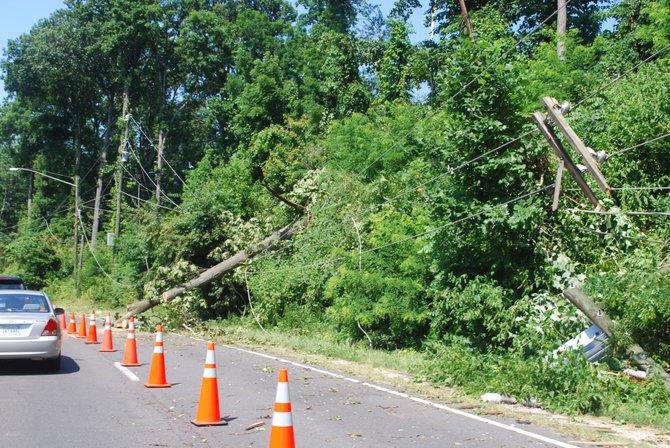 Centreville — Winds of more than 70 miles per hour swept through Fairfax County Friday night. Power went out as the storm blew into the area around 10:30 p.m. with hurricane force winds sounding like a freight train.
The sound made some residents think a tornado was upon them, and many took refuge in basements.
THERE WERE AT LEAST TWO DEATHS in Fairfax County, both in the West Springfield area.
A 27-year-old Burke man, Khiet Hguyen, died when a tree fell directly on top of his car on Old Keene Mill Road near Bauer Drive, according to Fairfax Police. He was declared dead at the scene of the accident.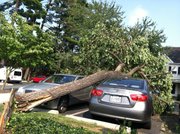 A 90-year-old West Springfield woman who was lying in bed died when a tree fell on her home on Carr Street at 11 p.m. Friday night. Another person in the home called 911 but was unable to reach the woman. Police and fire and rescue units responded to the home, but they needed a construction crane and specialized tree removal equipment to continue the recovery operation.
On Saturday early morning, 429,868 of Dominion Power's Northern Virginia 831,900 customers were without power. Among those affected was the Fairfax County emergency 911 service.
The Fairfax County emergency 911 phone system was down around noon Saturday, according to the Fairfax County Emergency Alert system. "Many other forms of communications to include cellular, land line and texting are intermittent. If you have an emergency, we ask that you go to your local police or fire station for assistance," according to Fairfax County officials.
911 service was partly restored several hours later, using the backup non-emergency numbers of 703-691-7561 and 703-691-3680 if a 911 call did not go through.
Emergency 911 service was working by Sunday, and police ask that residents call 911 only in a true emergency, and to call the Fairfax County non-emergency numbers, 703-691-7561 and 703-691-3680 to report less urgent public safety problems. These are not the numbers to call to report a power outage; call Dominion at 866-366-4357.
Many traffic signals are out throughout the region. In Fairfax County, 130 traffic signals were without power on Saturday, according to county officials, who remind drivers to treat any intersection with a dark signal as a four-way stop sign.
Residents who get their water from the Falls Church Water system in portions of Tysons, McLean, Vienna, Dunn Loring and Merrifield were advised to boil their water before drinking it. Multiple water pumping plants throughout the region were without power, leading to calls for water conservation.
It will take at least several days, possibly as long as a week, to restore power to most customers, Dominion Power warned.
By Saturday night, there were about 340,000 Dominion customers in Northern Virginia still without power. By Sunday morning, that number was down to 285,000 households.
With temperatures predicted to be 100 degrees or greater, there were hyperthermia concerns about residents who are older or with disabilities. Supervisor Patrick Herrity was one of many who urged residents to check on their neighbors.
The county offered several heat relief options, including the RECenters in Lee District, Mount Vernon, South Run in Springfield, Cub Run in Chantilly, Oak Marr in Oakton, and the Burke Centre Library. Regional libraries with power were also open to the public. Many residents sought refuge from the heat in area malls.
The opening of Saturday's round of AT&T National, organized by Tiger Woods and going on at Congressional Country Club in Bethesda, was delayed. When play began, the tournament was closed to the public, with players only allowed on course — no volunteers or spectators.
STORMS UPROOTED mature trees, blew down limbs, brought down numerous power lines and also broke power poles.
Neighbors were urged to check on seniors and those with disabilities.
Call 911 for reports of "hot" or sparking electrical wires, especially those on roadways.
Call Dominion Power to report outages at 1-866-366-4357.