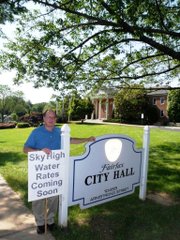 Every three months, Fairfax County resident Kirk F. Randall reluctantly writes a check to the City of Fairfax for his water bill, and fumes about it.
A lifelong County resident whose home borders the City of Fairfax, Randall is one of the 21,000 county residents who pay 71 percent more for water because he gets his water from the City of Fairfax rather than Fairfax Water, the County- utility.
He also pays the water bills for his family home in McLean, where his 85-year-old father still lives. That water comes from the City of Falls Church, which charges customers such as Randall 44 percent more than other county residents pay.
"Not only have I had no choice but to buy more expensive water for more than 26 years, but I don't get to vote on the city's decision because I'm a county resident. It's absurd," Randall said. In May, he paid a quarterly total of nearly $200 for both water bills. If he were a Fairfax Water customer, he would have paid $60.19.
Randall's frustration echoes that of many county residents who have complained to the Fairfax County Board of Supervisors about high water bills and being "taxed" without concomitant "representation."
Currently more than 153,000 residents – approximately 14 percent - receive their water from municipal utilities in Falls Church, the City of Fairfax and the towns of Herndon and Vienna rather than Fairfax Water. Those residents pay as much as 82 percent more for their drinking water.
The battle over who controls water service in Fairfax County percolated for years before erupting into a full-blown war last December when county supervisors – responding to complaints from residents - drew a line in the sand.
On December 6, supervisors enacted an ordinance that gave the county broad powers to determine how residents get their water and how much they pay for it.


COUNTY OFFICIALS said the new law – which was slated to go into effect July 1 - was an attempt to ensure that all county residents pay a "fair and reasonable" rate for their water.
"Someone who lives in Fairfax County, but is served by a separate jurisdiction's water provider, should have the assurance that the rate they pay can be justified," said Board Chairman Sharon Bulova (D-At-large), "It's as simple as that."
But city and town leaders argued there was nothing "simple" about the county's move. They saw the ordinance as a blatant power grab, and promptly sued the county.
"The attempt by Fairfax County in 2011 to regulate rates for water systems it doesn't own, and didn't build, is simply unconstitutional," said Virginia State Senator Chap Petersen (D-34), a longtime City of Fairfax resident and former council member, whose constituents include Fairfax City, Town of Vienna, and Fairfax County residents. He maintains that current state law already requires water to be provided as a "cost-based" service.
"In other words, the price of our water is based on the cost of service. That price, about $1 a day, is one of the cheapest rates in the United States, no matter where you live in Northern Virginia," said Petersen, who considered introducing legislation in the General Assembly to nullify the county ordinance last December.
The ensuing "Water Wars" have embroiled four local governments, powerful politicians, high-level bureaucrats, high-priced legal teams, the U.S Army Corps of Engineers, and a billion-dollar utility company, who are spending a significant amount of time and money battling each other in a series of lawsuits, legislative showdowns and PR campaigns.
There was a temporary cease-fire on June 14 when county officials agreed to a 90-day suspension of the ordinance, and the cities of Fairfax and Falls Church agreed to put their litigation on hold, as all sides discuss various options to reduce the rates the affected county residents pay for their water.
"Many assumed the County would be mandating rates equal to the Water Authority's rates, but that only would happen if no justification for rates was provided, or the justification was deemed to be inadequate," said Anthony Griffin, who recently retired as the longtime county executive. Before joining the county, Griffin served as the city manager for Falls Church, and Chairman Bulova recently appointed him to the Fairfax Water Board of Directors.
Griffin said he was "hopeful" that during the stay "there will be conversations that will produce win-win solutions for the parties involved, and particularly for the customers of the various water systems."


IN THE MIDST of the posturing and political power-brokering stands Randall, 61, who worked for more than three decades as a utility economist with the federal government.
He said he never intended to become an expert on water, but when he realized how much more he and his neighbors were paying, he got mad. And then he decided he wasn't going to take it anymore.
"Like most of the other 153,000 affected county residents, for years I got my quarterly bill and paid each bill, totally unaware of how much extra I was paying. In 2009, I figured it was about time somebody spoke up for these captive customers," he said.
To that end, Randall has testified before city councils, written opinion pieces in local newspapers, and lobbied numerous state, federal, county, and city officials.
He has amassed thousands of pages of documents relating to water issues, and can cite chapter and verse when it comes to the history of the highly decentralized world of water operations, where dozens of public agencies are involved in the purchase, sale, distribution and delivery of water to residents. Randall has become known as a "solid" advocate in the water wars, respected for his persistence and fact-based presentations rather than his attention-grabbing antics.
"Transparency is the key," he said. "These towns and cities need regulatory oversight-just as do other monopoly utilities such as Washington Gas or Dominion Power – to hold them accountable for every penny they charge their captive customers."
However, many Fairfax City residents affirmed they want to keep their water system independent from Fairfax Water.


DURING A RECENT PUBLIC HEARING on the topic, city resident Curtis Chandler called the city's water system an "asset" and "competitive advantage."
"Keeping the system and making the investment to keep it up to date is entrepreneurial," Chandler said at the hearing.
Catherine Read, a city resident who narrowly lost her recent bid for a city council seat, agrees that the city's water system is a valuable asset. She said in every forum she attended on the subject, the majority of citizens who turned out to express an opinion were in favor of the city keeping it.
Randall calls this "home-grown civic pride" that makes no economic sense, but Read disagrees. "I don't think it's about 'civic pride.' Access to clean potable drinking water will be the next great challenge of governments all over the world," Read said. "Why would we simply turn that asset over to someone else and lose control over both how it's managed and what it will cost? What benefit does the city derive beyond short term savings on not having to invest millions in the needed maintenance and upgrades?"
Randall argues the city's recent decision to maintain its Loudoun County system doesn't begin to address system reliability, as evidenced by the nearly month-long outage in May when the city was forced to purchase 100 percent of its water from Fairfax Water.
The city currently has no long-term backup for its Loudoun County treatment and transmission facilities. Each time the city declares a system emergency – which has occurred about every five weeks in recent years – it relies on the largesse of Fairfax Water to provide it with water priced below Fairfax Water's cost, which disadvantages the water utility's customers.
Jeanne Bailey, who is in the unenviable position of being a longtime city resident and the spokesperson for Fairfax Water, said that many city residents don't fully understand the vulnerability of the city's system.
She said Fairfax Water has 17 billion gallons of upstream storage ready to go in the event of a drought, but specifically prohibits the city from buying emergency water during a drought because it's an event that can be "planned-for," not an emergency.
"Fairfax Water is the city's only emergency back-up, and reliable long-term backup is expensive for us to provide. We're happy to help, but we have to be fair to our customers as well," she said. "At some point in time, they are either going to have to spend many tens of millions securing long-term back-up service elsewhere, or buy it at cost from Fairfax Water."
Randall said he will continue his quest to educate and inform city and county residents about the economic and reliability benefits of partnering with Fairfax Water.
In May, Randall addressed the City Council, saying: "If city officials don't deal with long-term backup and emergency water needs real soon, one day when there's an emergency outage, they are going to turn on the faucet and get absolutely nothing."