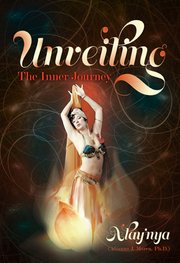 McLean resident and author, Alianna Maren, is celebrating an anniversary. This month marks one year since her groundbreaking book, "Unveiling: the Inner Journey," was published. And she is inviting all of McLean to join the celebration.
Though the published book is very young, the concept has been with her for many years. In fact, she began writing it in 1996.
Maren spent the early part of her career as a scientist and student of martial arts, both of which she refers to as rather masculine pursuits. But "something was missing," she said.
"We know in our society that men have a well-defined growth path. We know all about heroes. Most of us know about Luke Skywalker, and how he was coached by his master teachers," she said. "It's a very common movie theme, a very common book theme."
When a friend introduced her to belly dancing, she felt like she was home. In fact, she likened it to the growth path that men know so well. The dancing is one of the vehicles that help women develop a sense of body awareness. "It's a pathway for stress reduction, releasing emotional blockages, and feeling overall just more fit and limber, supple, flexible, and juicy," she said. It is a way of life that she feels strongly about, and one that she likes to share through her book, and through her dance classes.
The book is full of research and stories that Maren hopes will help women "discover and cultivate our playful and prayerful selves, unkink our emotionally stuck stuff, and discover a fountain of youth through ch'i."
She invites readers to join the online celebration of the Unveiling Journey by visiting the website, www.theunveilingjourney.com, by visiting "The Unveiling Journey" Facebook page, or by visiting the blog http://theunveilingjourney.blogspot.com.