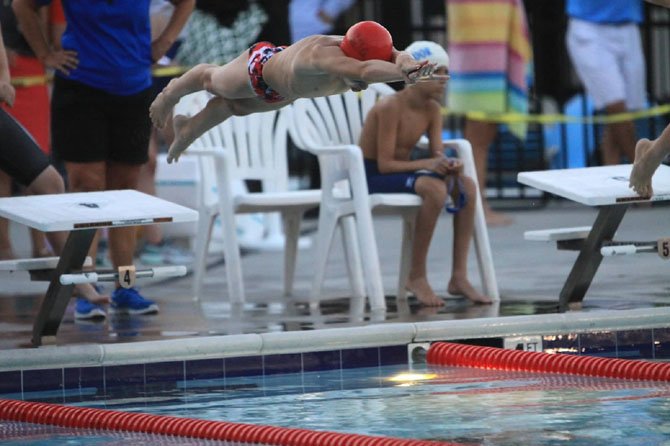 Photo Gallery
WGCC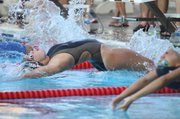 Click Photo for Flash
The WGCC Lightning swimmers have just completed one of the most successful seasons in the team's history. They had an undefeated dual meet season, won Divisional Relays, and emerged victorious at the Division-A Championships. But, after losing by the absolute slimmest of margins at last year's league championships; the team was looking for redemption and the Lightning swimmers came through.
On July 28-29, the 15 teams of the Country Club Swimming and Diving Association met at Army-Navy Country Club in Arlington for the CCSDA league championships. Each team sent its top two swimmers to compete in each event. The preliminaries were held on Monday and the top16 finishers in each event returned on Tuesday for finals. While the other local swim leagues culminate in individual All Stars — the CCSDA "Champs" meet is ultimately a team event and determines the top team for the entire league.
After a 51-year drought, WGCC won Champs in 2009 and, over the past several years, the title has gone back-and-forth between WGCC and Kenwood. In last year's match-up, the Lightning lost by a half a point to their rivals Kenwood — the closest match-up in the league's history.
The Lightning's rallying cry this year has been "taking care of business." The team led the meet from the first event and they never looked back. Many of the swimmers posted season-best times — and a number of these times bested previous team and league records. By the meet's end, WGCC held more than a 100-point lead over the second place finishers.
WGCC had two double winners — Ryan Baker and Jack Carman — and both won with record setting times. Ryan Baker won the Boys Senior IM in a time of 57.89, breaking the Champs meet record and the Army-Navy pool record. This time also broke the WGCC team record set by Tom Dolan in 1994 (Dolan later won gold in the 1996 and 2000 Olympics). Baker also won the Boys 18U backstroke in a time of 25.61, breaking a CCSDA, meet, pool, and team record (he broke his own team record set earlier in the summer). Jack Carman won the Boys 10U breaststroke. His preliminary time of 18.16 set a new pool record and it also broke the WGCC team record set by Tom Dolan in 1986. Carman also won the Boys 10U butterfly.
Single winners for the Lightning were: Jillian Johnson (setting a new pool record of 1:11.83 in the Girls 12U IM); Lucas Zidlicky (setting a pool record of 15.46 in the Boys 8U free); Sean Curran (Boys 8U back); Sophie Yoder (Girls 10U back); Sydney-Cate Thornett (Girls 10U breast); and David DiMeglio and Richard Gentry (with a tie for first place in the Boys 14U breast).
Swimmers finishing in the top three for WGCC included: Avery Nassetta (2nd in Girls 10U free with a WGCC team record of 14.14, breaking a 34-year old record set by Christine Smith; 3rd in Girls 10U back); Alex Gerlach (2nd in both Boys 10U free & back); Chris Outlaw (2nd in both Boys 18U free, with a time of 24.03 that broke his own team record set earlier this season, and 18U fly); Johnson (2nd in Girls 12U back - her time of 32.88 broke her own team record); Zander Zidlicky (2nd in both 14U back & fly, besting his own team record in fly with a time of 28.07); Grace Maria (2nd in Girls 8U breast); Conner McCarthy (2nd in both Boys 8U breast & fly, and breaking teammate Richard Gentry's team record in fly set in 2009 with a time of 17.83); Yoder (2nd in Girls 10U fly); Caroline Otteni (2nd in Girls 12U fly); Mike Poppalardo (3rd in Boys 18U free); Palmer McTague (3rd in Boys 10U breast); Angus Ricks (3rd in Boys 12U breast); Jack Burke (3rd in 8U Boys fly), and Petie Nassetta (3rd in Girls 14U fly).
Other swimmers earning points for WGCC at the Championship meet were 8U swimmers Caroline Klauder, Elice Lebedev, Pearson Shay, Will Walters and Emme Yoder; 10U swimmers Cab Fooshe, Paddy McCarthy, Helen Otteni and Pamela Grace von Seelen; 12U swimmers Kate Burke, Merrick Carey, Amanda DiMeglio, Sarah DiMeglio, Brian McCarthy, Charlotte Thomson and Tucker Wall ; 14U swimmers Cate Barrett, Lindsay Lukehart, Thomas Outlaw, G.G. Richmond and Carson Wood; and 18U swimmers George Cranwell, Kirby Nassetta, Sydney Nassetta, Alston Offutt, Faith Palmer, Wilson Ricks and Kate Rita.
The Lightning have had great success all season in the relay events and this meet was no different. Of the six relay events, WGCC won four of them and finished no lower than 3rd place out of all the teams. The Boys Junior Medley relay team of Z. Zidlicky, Ricks, Carman, L. Zidlicky won and set a new pool and team record, with a time of 1:03.91. The Boys Graduated 200-meter Free relay team of L. Zidlicky, Gerlach, Ricks, Z. Zidlicky and Baker set a new CCSDA, meet, pool, and team record of 1:49.00. The Girls Junior Medley Relay team of Johnson, Thornett, P. Nassetta, and Shay and the Boys Senior Medley Relay team of Baker, Gentry, P. McCarthy, and Gerlach also won their events. Although the Girls Graduated Free Relay team of Shay, A. Nassetta, Johnson, P. Nassetta and K. Nassetta were edged out in their event, their time of 1:59.44 broke a 37-year old WGCC team record.
The final scores were: WGCC - 1324, Kenwood - 1193, Army Navy - 1114, Congressional - 821, Chevy Chase - 573.5; Bethesda - 519, Manor - 498, Edgemoor - 468.5, Columbia - 467.5, Norbeck - 427, Montgomery - 366, Argyle - 294, Belle Haven - 266.5, Avenel - 234 and Lakewood - 64.