The Washington Golf and Country Club (WGCC) Lightning, one of five teams competing in the top division of the CCSDA (Country Club Swimming and Diving Association) competed in their first Division-A dual meet of the season last Thursday night – and they defeated Edgemoor in a lopsided victory. The Lightning swimmers won almost every individual event – and won every single relay event. The final score was WGCC 409, Edgemoor 69.
Triple winners for WGCC were: Jillian Johnson (Girls 12U IM, Back & Fly); Ollie Bernasek (Boys 12U IM, Back & Fly); Zander Zidlicky (Boys 14U Free, Back& Fly), and Jack Carman (Boys 10U Back, Breast & Fly). Double winners were: Cate Barrett (Girls 18U IM & 14U Back); Chris Outlaw (Boys 18U IM & Fly); Pearson Shay (Girls 8U Free & Fly); Avery Nassetta (Girls 10U Free & Back); Caroline Otteni (Girls 12U Free and Back); Petie Nassetta (Girls 14U Free & Fly); Caitlyn O'Berry (Girls 18U Free & Back); Ryan Baker (Boys 18U Free & Back), and Conner McCarthy (Boys 8U Breast & Fly). Single winners were: Lucas Zidlicky (Boys 8U Free); Alex Gerlach (Boys 10U Free); Sean Curran (Boys 8U Back); Elice Lebeder (Girls 8U Breast); Sydney-Cate Thornett (Girls 10U Breast); Angus Ricks (Boys 12U Breast); GG Richmond (Girls 14U Breast); Richard Gentry (Boys 14U Breast); Faith Palmer (Girls 18U Breast); Sophie Yoder (Girls 10U Fly), and Kirby Nassetta (Girls 18U Fly).
The following relay teams won their events: Girls Junior Medley (Pamela Grace von Seelen, Petie Nassetta, Sofie Fisher, Izzy Bernasek); Boys Junior Medley Relay (Zander Zidlicky, Angus Ricks, Jack Carman, Lucas Zidlicky); Girls Senior Medley (Cate Barrett, Alston Offutt, Caroline Otteni, Avery Nassetta); Boys Senior Medley (Ryan Baker, Richard Gentry, Ollie Bernasek, Alex Gerlach); Girls Mixed Age Free Relay (Pearson Shay, Avery Nassetta, Jillian Johnson, Petie Nassetta, Caitlyn O'Berry), and the Boys Mixed Age Free Relay ( Lucas Zidlicky, Jack Carman, Ollie Bernasek, Zander Zidlicky, and Ryan Baker).
Photo Gallery
WGCC Swim Meet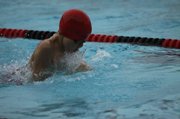 Click Photo for Flash