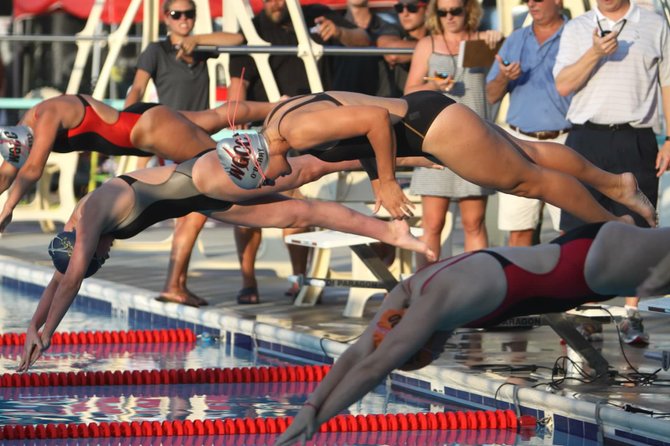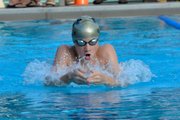 Last year, the WGCC Lightning swimmers lost the Country Club Swimming and Diving Association championship title by a half a point to Kenwood. Had any one WGCC swimmer finished one place higher during the two-day league championship meet, the team would have won. Many of the team's swimmers trained hard all winter with that half-point on their minds. This past week, the team moved three steps closer to claiming that title with decisive victories in three of their biggest meets this season.
In one of the most exciting weeks of competition in its history, the Lightning easily defeated their arch-rival Kenwood (and finished their dual-meet season with a record of 4-0), crushed the competition in the Division A relays, and were crowned the Division
A champions. They also broke over 20 CCSDA league and WGCC team records along the way.
On Monday night, the five teams of CCSDA's Division A met at Kenwood for the Divisional Relays. WGCC won 15 of 22 relays, and 12 of these wins broke existing CCSDA league records. Final scores for the meet were: WGCC 272, Kenwood 209, Congressional 172, Army Navy 161, Edgemoor 98.
Winning relay teams for WGCC were (*record setting teams): boys' 8U medley (Sean Curran, Conner McCarthy, Jack Burke, Lucas Zidlicky); boys' 8U free (Zidlicky, Curran, John Offutt, McCarthy); girls' 10U medley (Pamela Grace von Seelen, Sydney-Cate Thornett, Helen Otteni, Avery Nassetta); girls' 10U free (Sophie Yoder, von Seelen, Thornett, Nassetta); boys' 10U medley (Luke Bernasek, Jack Carman, Paddy McCarthy, Alex Gerlach); girls' 12U medley (Jillian Johnson, Charlotte Thomson, Caroline Otteni, Kate Burke); girls' 12U free (Johnson, Burke, Sarah DiMeglio, Caroline Otteni); girls' 14U medley and free (Cate Barrett, GG Richmond, Petie Nassetta, Lindsay Lukehart); boys' 14U medley and free (Zander Zidlicky, Richard Gentry, Spencer Lukehart, Carson Wood); boys' 18U medley (Ryan Baker, George Cranwell, Chris Outlaw, Mike Poppalardo); boys' 18U free (Outlaw, Poppalardo, Wilson Ricks, Baker); girls' mixed-age crescendo free (Avery Nassetta, Caitlyn O'Berry, Petie Nassetta, Johnson, Pearson Shay), and the boys' mixed-age crescendo Free (Lucas Zidlicky, Zander Zidlicky, Baker, Ollie Bernasek, Carman).
On Tuesday night, WGCC hosted the Division A championship meet. The five teams of the league's top division reconvened to swim for the title of Division A champions. This meet has been very close in recent years, but WGCC swam to an easy victory. The final scores were WGCC 414, Kenwood 308, Army-Navy 247, Congressional 164, and Edgemoor 87.
This meet was the highlight of the season for the Lightning as they saw multiple team and league records topple, some of which had held for many years. Jillian Johnson swam the girls' 12U 100-meter IM in a time of 1:10.58, breaking the CCSDA record set in 2004 and the WGCC team record set in 1982 by Christine Smith (Smith swam for WGCC in the late '70s and '80s, her multiple team records have proven very elusive to break). Later in the meet, Johnson broke a team record in the girls' 12U 50-meter backstroke with a winning time of 38.38 (breaking another of Smith's 1982 team record). The next night, Johnson established a new team record in this event, winning against Kenwood in a time of 33.33.

Chris Outlaw swam the boys' 18U 50-meter freestyle in a time of 24.03 (breaking his own team record set in 2013). Zander Zidlicky swam the boys' 14U butterfly in a time of 28.29, bettering the WGCC team record set by Ryan Baker in 2012.
Ryan Baker continued his record-breaking ways by swimming the boys' 18U backstroke in a time of 26.31, breaking the CCSDA league record set in 2007. He also established a new team record, breaking his own record set in 2013. Later in the evening, Baker broke both a team and league record in the boys' 18U butterfly. His winning time of 25.67 beat the CCSDA record set in 2007 and the WGCC team record set in 2001 by Robin Miller.
Several relay teams also broke records during this meet. The boys' junior medley relay team of Zander Zidlicky, Angus Ricks, Jack Carman, and Lucas Zidlicky bested the WGCC team record with a winning time of 1.04.14. The boys' senior medley relay team of Baker, Richard Gentry, Ollie Bernasek and Alex Gerlach swam in a winning time of 56.56, beating both the CCSDA record set in 1961 and the WGCC team record set in 2012. Finally, the boys' 200-meter graduated free relay team of Lucas Zidlicky, Carman, Bernasek, Zander Zidlicky, and Baker broke the CCSDA record (2008) and the WGCC team record (2012) in a winning time of 1.50.38.
Finally, on Wednesday night, WGCC hosted Kenwood for their final dual-meet of the season (this meet had been rained out a week earlier). Over the past five years, these two teams have battled each other for the top spot in the CCSDA. While the meet was expected to be close, WGCC dominated from start to finish and won decisively with a score of 331-155.
Over the course of these last two meets, there were many winners for WGCC: triple winners were: Jillian Johnson (girls' 12U IM, back, fly); Ollie Bernasek boys' 12U IM, free, fly); Ryan Baker (boys' 18U IM, back, fly); Petie Nassetta (girls' 14U free, back, fly); Conner McCarthy (boys' 8U back, breast, fly); and Jack Carman (boys' 10U back, breast, fly). Double winners were: Pearson Shay (girls' 8U free, fly); Zander Zidlicky (boys' 14U free, back); Caitlyn O'Berry (girls' 18U free, fly); and Sophie Yoder (girls' 10U back, fly). Single winners were: Lucas Zidlicky (boys' 8U free); Alex Gerlach (boys' 10U free); Chris Outlaw (boys' 18U free); Izzy Bernasek (girls' 8U back); Sean Curran (boys' 8U back); Grace Maria (girls' 8U breast); Sydney-Cate Thornett (girls' 10U breast); Angus Ricks (boys' 12U breast); Cate Barrett (girls' 14U breast); GG Richmond (girls' 14U breast); Richard Gentry (boys' 14U breast); and Faith Palmer (girls' 18U breast).
In addition to the record-setting relay teams above, the following relay teams won: girls' junior medley (Barrett, Thornett, Johnson, Shay); girls' senior medley (Kirby Nassetta, Richmond, Caroline Otteni, Avery Nassetta), and girls' graduated free (Shay, A. Nassetta, Johnson, P. Nassetta, O'Berry).
The Lightning head into their final meet next week, the league championships, where all 15 teams of the CCSDA will gather at Army-Navy for two days to determine which team will claim the title of the 2014 CCSDA champs.