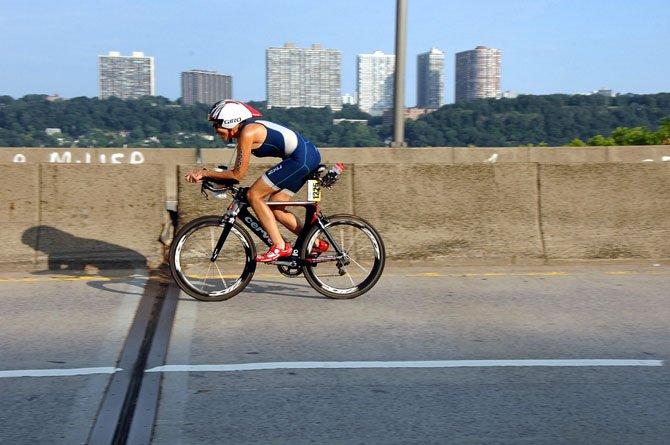 Nancy Avitabile joined the Potomac Pedalers roughly 15 years ago to ride with others who shared her love for cycling. While the friends and knowledge she gained from joining the Pedalers brought personal satisfaction, her physical improvement in the sport helped bring Avitabile national recognition.
Avitabile, a 64-year-old Bethesda resident, has competed in more than 25 triathlons since participating in her first in 1996. She won the 2010 USA Triathlon amateur national championship for her age group. In 2011, her accomplishments involved winning her age group at the Nation's Triathlon and the Miami Half-Ironman Triathlon. This year, Avitabile finished first in her age group at the Eagleman Half-Ironman triathlon in Cambridge, Md., on June 10, earning her a slot in the Hawaii Ironman World Championship in October. On July 8, she won her age group at the New York City Triathlon. She's also a member of Team USA and will represent the country at this year's world championships in New Zealand.
Avitabile credits the Potomac Pedalers for some of her triathlon success.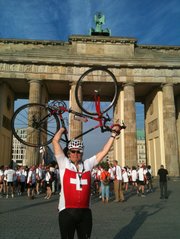 "I became a better cyclist," she said.
The Potomac Pedalers Touring Club is a cycling club for residents of Maryland, Washington, D.C., and Virginia. Founded in 1966, the club offers group rides for cyclists of all ages and ability levels. It's one of the largest cycling clubs in the nation, with 3,500 members in 2010, according to raceacrossamerica.org.
Cyclists are categorized by "ride class" to assure groups contain members of similar ability levels. A cyclist's ride class is determined by his or her average riding speed and endurance.
The club encourages beginners to start in the "D" class. According to the club's ride class table, a D rider averages 10-12 mph on flat ground and typically travels routes of 10-25 miles. In comparison, a "B" rider averages 16-18 mph on flat ground and travels a route length of 40-60 miles. An "AA" rider, the highest class, averages 22-24 mph on flat ground and travels routes of 60-100 miles.
Some members look to improve their speed and stamina and move into a different class, while others enjoy the slower, more social rides.
"You get out of it what you want to get out of it," said Bob Bernstein, the 2012 chairman of the Pedalers' executive committee.
Avitabile, who is the committee's treasurer, started below B level when she joined the club in the mid 1990s, but rode with B groups as a way to push herself to improve. She is now a group leader for BB rides.
"The club members were great," she said. "They were really helpful with giving me pointers with how to ride faster and how to ride better."
"If you're new to the area, it's a good way to meet people if you're into cycling because there are so many different levels of cycling. We cover such a large area, there is something in it for everybody. You don't have to be in one area to take advantage of it."

— Potomac Pedalers executive committee member Chris White of Springfield
Avitabile said triathletes view running, swimming and cycling as part of one event, rather than three individual sports. However, she said cycling is her favorite of the trio.
"I love cycling," Avitabile said. "I love getting out there and going fast. There's just something about cycling — a real sense of freedom."
Bernstein said the Pedalers offer cyclists many benefits.
"One is just the social aspect: being able to share the sport with others who enjoy it," he said. "The learning aspect: if somebody has a bike and they're out there riding alone, they don't necessarily learn some of the hints or some of the things an experienced cyclist knows. By joining the club, you can stay out of trouble [and learn] how to keep from getting hit [by a car]."
Bernstein, a 57-year-old Ellicott City, Md., resident, has been a Pedalers member since 2003, but has been a cyclist in some form since his teens.
"Right now I would say [cycling is] a passion," he said. "It started out as transportation — I didn't have car. It evolved from transportation to sport, to passion and exercise."
Weight loss is one of the ways 62-year-old Arlington resident and Potomac Pedalers member Ed Hazelwood has benefitted from cycling. Hazelwood said he's logged more miles on his bike as the weather has grown warmer, helping him lose 10 pounds since May.
"I think I [ride] mostly because I enjoy it," he said, "but I really, really like the health benefits."
After living in Italy for five years, 53-year-old Springfield resident Chris White has been back with the Pedalers for three years and is a member of the executive committee. Along with trips to the gym and changes to his diet, White said cycling has helped him lose 20-25 pounds in recent years.
"I wasn't all that active for about five years [in Italy]," he said. "... I stopped [drinking] wine and [eating] pasta."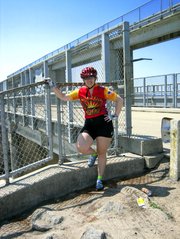 Deb Reynolds, a 45-year-old Alexandria resident and Pedalers member since 2003, said cycling is also a way to gather one's thoughts.
"It's exercise, but it's also a stress reliever," said Reynolds, who is also a member of the club's executive committee. "When you're out there riding — we do wear helmets — but you have a feeling of the wind in your hair. It really does relieve a lot of stress and you're able to think things over. … On days that I can actually ride to work, I'm able to think things through and I get to work and the day goes better."
Bethesda resident and Pedalers member Carol Linden called cycling a form of "mental therapy."
While the Pedalers have a sense of camaraderie on their bikes, some club members share a bond through following the Tour de France. The Pedalers hosted a Tour de France happy hour in Arlington on July 18. Hazelwood twice attended the Tour, and in 2008 he biked in the French Alps the day before the Tour de France climbed the path.
The Pedalers offer group rides throughout the week and on weekends in parts of Maryland, Washington, D.C., and Virginia. The Pedalers' ride schedule can be found on its Website, potomacpedalers.org.
A one-year individual membership costs $30. A one-year family membership is $37, and the annual student rate is $25. An individual lifetime membership is available for $350. The Potomac Pedalers Touring Club is a non-profit corporation.
Bernstein said while not every cyclist has a positive first ride with the Pedalers, he encouraged those who experience difficulties to communicate with club leaders to solve the problem.
"The club is constantly evolving," Bernstein said. "If somebody tries the club and there is some specific thing that happened that they don't like, they should contact me or another ride leader and discus it. We're trying to make the club as open as possible and give people a positive riding experience."
White said the club offers an opportunity for all cyclists to have a good time.
"If you're new to the area, it's a good way to meet people if you're into cycling because there are so many different levels of cycling," he said. "We cover such a large area, there is something in it for everybody. You don't have to be in one area to take advantage of it."